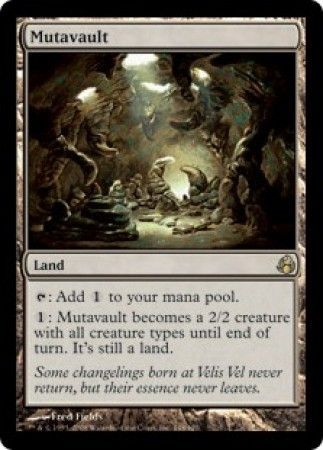 EVO Merchant:
Angry Bottle Gnome
Fulfilled By:
TrollAndToad.Com
Sell to Us $11.31
*
* The 'Sell to Us' price may reflect an added website credit bonus. Other buy list payment methods will not include this.
| | |
| --- | --- |
| Rarity | Rare |
| Color | Land |
| Casting Cost | |
| Card Type | Land |
| Card Text | : Add.: Mutavault becomes a 2/2 creature with all creature types until end of turn. It's still a land. |
| Set | Morningtide |
| Artist | Fred Fields |
| Flavor Text | Some changelings born at Velis Vel never return, but their essence never leaves. |
| Description | Morningtide Single Card |
| Release Date | 2008-02-01 |
| Dimensions | 3.5" H x 2.5" W x 0.012" D |
| Ship Weight | 0.004 pounds |
-
December 23, 2009
-- Nicholas
Okay, yes.
It is possible to kill untargetable things... How is this relevant to the discussion of Mutavault? In comparison to other manlands: firstly it comes into play untapped which is amazing. Treetop Village/Faerie Conclave has nothing on it. Secondly, it can animate itself which is great if you need to champion something or if you're playing a Spellstutter Sprite and need another faerie on the battlefield. Thirdly, it's changeling so not only will it get buffs from your tribal lords, but also your opponents. This card is great and there's a reason it's seen in all formats in Tier One decks.
-
November 28, 2009
-- Mark
Jim from wisconsin, your comments on every card I have read have been borderline lack of any knowledge of Magic Meta game at all. Good luck trying to do anything to an untargetable Mutavault swinging as a 7/7 flyer can't be the target of spells or abilities sliver base deck and protected by counter or trying to touch it in Fish where it swings as a solid 7/7 islandwalk/unblockable thats protected by counter and bounce, both deck are capable very early to in the game to produce the vault as a large monster. Turn 4 becomes a nightmare for people to deal with the vault in play in both Legacy and Extended Fish and Slivers in Legacy. Tribal decks love the vault and decks like eva green, threshold, stacks and any form of non Tribal will prefer the Factory. Both cards are very very good and have there advantages in different setups.
-
July 18, 2009
-- Tranderas
This card is a beast, truly. Factories are worse than this in most decks that want to run either card. Get 4 if you play any tribal deck at all.
-
January 18, 2009
-- Scoop
ok for all the guys who are wondering y this card is so great lets think about it

1. Its a land u can cast stuff with it
2. It can become a 2/2 creature for one generic cost
3. Its a changeling when it becomes a creature
4. IT DOESNT COME IN TAPPED

because of those main four points above the card can b used for many different reasons in many different decks rather effectively one of the reasons which shafted me

fairy deck drops mutavault 5th turn no fairies in play
opponents upkeeptap mutavault for one generic animating it self flash Mistbind Clique in tapping all opponents lands lands total burst face from then on.
there are so many combos for this card 5/5 any day
-
August 06, 2008
-- Zane
Great card! btw umm cleveland you could do all those things in any other deck.
-
July 19, 2008
-- Anonymous
lolz, its a good for quite a few reasons, like:
it can activate itself
it can become a creature
its a 2/2 as a creature
it can chump block
it can gain island walk from lord of atlantis
it can gain shoud from Scion of Oona
it can be regenerated by a Mad Auntie of its a creature
it can let you play prowl cost if it gets through
it can be played on turn 1
it can have any sliver abilities
it has no mana cost to play
its colorless
it cant be thoughtsiezed
its a shaman, rouge, cleric, warrior, knight, soldier, giant, kithkin, merfolk, goblin, giant, goat, rigger, ninja, pirate, fox, rat, Lhurgoyf, and human all at once when it's a creature

there aren't too many changeling creatures in the game yet
-
July 15, 2008
-- Jeremy Paulson
When I got this in a pack, I almost had a stroke. Mutavault is one of the best cards in type 2 along with Tarmagoyf and Bitterblossom. Every type to deck can benefit from it.
-
July 14, 2008
-- ben_taylor79
Any current T1 or T2 deck will be weaker if it does not run a playset of these, and that is unfair as they are so much. At the end of the day this is effectively an uncounterable creature that is often pumped due to changeling ability, Man-lands rock, and the 'vault is up there with the best of them.
-
July 10, 2008
-- Duke DemonKnight
Remember how Mishra's Factory was an uncommon?? Yeah those were the good old days. (And now they're adding Mythic Rares in the fall)... Sigh... I want to play competitively but I don't feel like I can afford to, especially since it's best to have a backup deck for most formats. You're killin' me here, WotC.
Any serious tourney deck needs four these. The price is crazy. Regular players can't afford playsets of these. I really wish Wizards would be more careful when printing cards of this nature. It's not overpowered or anything but it is really good in any deck you run it in. It will help in aggro, control, weenie, etc., etc. Even if you're running three or more colors you'll find room for four of these.
At first I wasn't sold on the idea of Mutavault, but I watched a few matches and man, it was johnny on the spot for blocking, and after picking up my playset i can say I am totally pleased with it added to my type 2 deck.
-
May 04, 2008
-- Drew McCarron
Amazing card all around, can be played in any deck. A definate 5/5.
-
March 17, 2008
-- Cleveland
Mutavault is a card made for goblins. you can sac. it, block with it, attack with it champion it and tap it for mana and I am sure they are many other useful uses for this card too.
-
February 08, 2008
-- wescoe
The changeling status makes it extremely good in block and in standard. Many cards give bonuses to merfolk, elves, kithkin, goblins, etc.
-
February 02, 2008
-- Anonymous
Not a game changer but a useful card in a huge range of decks. My favorite land since rishadan port.
-
February 01, 2008
-- Anonymous
Premiere card in the set. A modern day Mishra's Factory, this card will see plenty of play.
-
October 13, 2010
-- d/0
It's good but it should also read (1) T: add 1 mana of any color to your mana pool.
The fact that it only makes colorless mana makes It pretty much restricted to dual and mono color decks.I like playing heavy multi so I can't see ever using this card.
Maybe it's more doable in legacy, but I can't see running this in 4-5 color control or doran or jund or bant etc. Though I would like to. Non-CIPT man-lands are sweet.
-
January 15, 2010
-- Anonymous
Great card! The only thing I have to add is that most tribal lords these days say that only creatures you control of the chosen type benefit, so, in the vast majority of games, your Mutavault will not benefit from your opponent's tribal lords, only yours.
definitley lots of potential. I'm not paying $32 for one tho. cool card
-
April 09, 2012
-- Alucard
Jim from Madison, WI: All of the removal you spoke of are sorceries and will only work if you are the aggressor and they activate it to block before casting one of them in your second main phase. There's only one Instant mass removal spell I know of(which is awesome btw) that would sweep the board if it was attacking you. The games I've seen this shine in it was almost always attacking so pumped with abilities thrown on makes it a very relevant threat. Still, I'd give it a 3 out of 5 stars since like most man lands they lose their luster in a multiplayer game. Like most cards in the game it tends to be as good as the other cards it's paired with.
-
December 05, 2008
-- IG
Overrated, Mishras Factory is a much more effective land. Turning this to a creature of all types makes this card very vulnerable. The CONS outweigh the PROS with Mutavault.
I can deal with Mishras Factory being a artifact creature that can get a boost from other Mishras factorys in play.
-
August 13, 2008
-- Tim van der Wart
Yes, I can see what the fuss is about. But think again: ALL creature types? How easy would that be to overcome? An-Zerrin Ruins perhaps? It's a great card, but the good ol' factory will bring you a safer way of creating a creature...
Great card, but why rare? It's only a 2/2, it doesn't deserve rare, and if they knew it was going to be so popular...

Ugh. The rare thing gets me. I'd have to say the same thing with Thoughtseize, one-drop rare.
-
July 06, 2008
-- Anonymous
:S Really only good in a couple kinds of decks - Tribe Deck or Aritfact deck. WAY over priced though 40$ good god.
-
February 21, 2008
-- Paulo
It's good, but overratad a lot! 19,90 is too much, may be 12,90...
-
February 19, 2008
-- Anonymous
This is a great card but it is also horribly overrated.
-
December 29, 2009
-- Jim
Well, its popularity and success in tournament play can't be ignored. That's true. I have earned a little more respect for it than I originally had, but I still don't see it as the amazing card some people claim it to be. And the reason I mentioned shroud was that Mark presented his scenario as though his shrouded Mutavault was somehow invincible. "good luck doing anything to a mutavault that can't be the target of spells or abilities". When someone tries to tell me my opinion about a card is wrong, then they proceed to demonstrate a lack of knowledge of something I learned within my first week of playing this game, I know I can disregard most, if not all, of what they are saying. But, like I said, that's just my opinion.
-
December 02, 2009
-- Jim
Untargetable doesn't mean untouchable...Wrath of God, Armageddon, Damnation, etc...etc... Any one of these will get rid of your Mutavault regardless of shroud. I think the fact you didn't know this shows your own lack of knowledge...
-
October 16, 2009
-- Jim
A decent card, but WAY over-rated. People say how great it is to have lands that can become creatures. This is true in some situations, however, this can be a liability just as much as an advantage, because it is also vulnerable to a much wider range of removal spells than if it was just a land or just a creature. And it is a bigger set-back when it is destroyed, because you have lost a land as well as a creature. To Anonymous from nowhere... Using one of these to activate itself is pretty pointless. All you have accomplished is turning a tapped land into a tapped creature. Good luck with that.
EVO Merchant:
Angry Bottle Gnome
Fulfilled By:
TrollAndToad.Com
Sell to Us $11.31
*
* The 'Sell to Us' price may reflect an added website credit bonus. Other buy list payment methods will not include this.