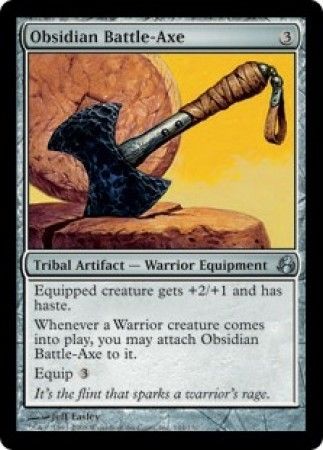 | | |
| --- | --- |
| Rarity | Uncommon |
| Color | Artifiact |
| Casting Cost | |
| Card Type | Tribal Artifact - Warrior Equi |
| Card Text | Equipped creature gets +2/+1 and has haste. Whenever a Warrior creature enters the battlefield, you may attach Obsidian Battle-Axe to it. Equip |
| Creature Type | Warrior,Equipment |
| Set | Morningtide |
| Artist | Jeff Easley |
| Flavor Text | It's the flint that sparks a warrior's rage. |
| Description | Morningtide Single Card |
| Release Date | 2008-02-01 |
| Dimensions | 3.5" H x 2.5" W x 0.012" D |
| Ship Weight | 0.004 pounds |
-
September 16, 2009
-- Jens N
Anyone who has played with the Warrior's Code theme deck knows how important this card is. You're turning a Lunk Errant into a 7/6 with haste and trample for 6 mana. Now that can't be bad - especially when you're running a playset of Brighthearth Bannerets to power into your giants. Warriors are a great theme to play with, and the Obsidian Battle-Axe is a must in such a deck.
This card is definitely the most effective equipment in this set, and one of the best cards..... Nacatl War pride is a warrior, this automatically makes him harder to kill and hit first turn.... better chance of him and all his minions going through. I have it in a warrior deck with Jedit, Stonebrow Krosan hero, bramblewood paragon, doubling seasons, garruk, it all works so synergistically.... and this is a crucial part.
-
June 17, 2008
-- ben_taylor79
yeah there are worse cards, great with chameol co, this is your 3 drop (2 drop with an elf), chameleon in on 3/4 drop haste attach bang bang you're dead and and so easily led i doubt barratt plays mtg though...
-
February 06, 2008
-- Anonymous
best equipment since umezawa's jitte, though it functions in a totally different way. makes any number of warrior builds much scarier. this card will require the (re)adoption of artifact removal in standard sideboards. playtest with this card and you will grasp its power