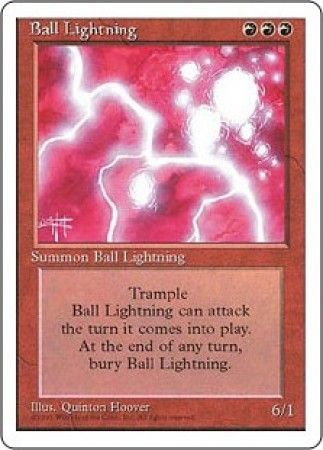 Fulfilled By:
TrollAndToad.Com
Sell to Us $2.44
*
* The 'Sell to Us' price may reflect an added website credit bonus. Other buy list payment methods will not include this.
| | |
| --- | --- |
| Rarity | Rare |
| Color | Red |
| Casting Cost | |
| Card Type | Summon Ball Lightning |
| Card Text | Trample (This creature can deal excess combat damage to the player or planeswalker it's attacking.) Haste (This creature can attack and as soon as it comes under your control.) At the beginning of the end step, sacrifice Ball Lightning. |
| Creature Type | Elemental |
| Set | Fourth Edition |
| Artist | Quinton Hoover |
| Flavor Text | |
| Description | MTG 4th Edition Single Card |
| Release Date | 1995-04-01 |
| Dimensions | 3.5" H x 2.5" W x 0.012" D |
| Ship Weight | 0.004 pounds |
Great but I can't give it 5 stars for the following reasons:(i) 3 R mana = it's hard to splash (ii) toughness of 1 = ANY red instant burn torches it, including flare (iii) it's dies after 1 turnThat said 6/1 tramples with haste for 3 still earns 4 stars. If they don't flare it, shock it, incinerate it, etc it is basically 6 damage to target player for 3 R, since most people don't block it.
One of my friends has created a nasty red/green Ball Lightning/Groundbreaker/Primal Forcemage deck that churns out 12/6 Ball Lightnings/groundbreakers in turn 5... the Uktabi Drakes becomes flying lava axes with only 1 Primal Forcemage on the table :S
-
March 29, 2009
-- Anonymous
If you can get at least 2 Ruby Mox cards and a mountain, or 3 Ruby Mox Cards, with Ball Lightning on the draw then you can get Ball Lightning out on your first turn.
-
September 01, 2008
-- Fernando
Best image only applies for "The Dark" Beatdown art is the most horrible thing... the worst, ugliest and meanest print ever... I would gladly destroy Beatdown Ball Lightning!
-
September 01, 2008
-- Fernando
The best hard that has ever printed. Awesome art, and awesome effect. My favorite for all times.
-
February 08, 2006
-- Spin
Ball Lightning is one of my favorite creatures. I have a green/red deck solely centered around quickly getting them out with Blood Lust, Beserk, Giant Growth, and Fork. Also I use Orcish Lumberjack, Wild Growth, and Birds of Paradise to help generate mana quicker.
-
November 26, 2005
-- ALLEN PHILIP B. FLORES
-
November 02, 2005
-- Anonymous
When I was a young lad, I used to use ball lightning all the time. It is great! Young lads of this day and age should also use ball lightning.
-
October 30, 2004
-- Nick
Possibly the best creature ever! In a mono red deck, this card is an absolute momentum-swinger. On turn three, the best creature your opponent will typically be fielding is a 3/3... so using that safe assumption puts your opponent on the spot. Either they stand by while a powerful red deck takes a third of their life in one fell swoop, or they lost their 3/3 beater and take 3 on top of that! It's just one of those creatures that comes along and just changes the format entirely! Short list material all the way!!
-
October 19, 2004
-- Miklaren Tarvin
Just think. Ball Lightning and Pandemonium... Ouch.
-
May 25, 2004
-- Anonymous
AHAHAHAHA!!!! A turn two Ball Lightning just has to ruin somebody's day. So good it spawned a few (crappyer) incarnations, like Skizzik.
-
December 08, 2001
-- Aodific
I have a 4 card combo for ball lightning. Ball Lightning, Berserk, Fork, Mirari the Berserk, then Mirari the Fork. 96/1 with trample heading your way.........ouch. (wimpers)
-
January 03, 2010
-- Mr. Happy Face
I would not say this card is perfect, i mean if your opponent has any kind of instant removal they will use on this card since it can deal so much damage and like a fellow above me first strike can get rid of this card too, Still a pretty good card though i mean you can most of the time get in for 4 or more by the time this card should be out. it can be combined with giant growth and collosal might to make it more powerful and more protected against instant removal
-
September 15, 2008
-- Brian
great cad but i think i'd rather play a blistering thunder cat..reasons???? could play for more turn with morph..cost 2 red to morph it for a 7-1 trample..could use the firecat for defence by blocking..what do you guys think??
-
September 06, 2007
-- Dustin Ethridge
Truly awesome card, often times its the killing blow, or closes the gap enough so the burn your still holding seals the deal, Skizzik has enough obvious advantages to any deck that likes to pour the damage on like a vat of molten lead that you think it would get some props. Its not as mana intensive so you can have a solid chance to play it in multi-color decks, its no where near as easy to hose thanks to that +2 toughness, you have the option to keep it around for an extra mana, and as any one who has played with ball lighting knows 4 is never enough and 8 is mucho better. Having old faves is fine but lets not get stuck in retro-land, the macaraina was popular when this card was in print and burning people worse than a jar of pickled habeneros, do ya still think thats the best dance ever!?
-
March 25, 2004
-- Anonymous
Only 3 red mana is required. Very fast to crush your enemy.
-
February 17, 2002
-- Ben Buhler
This Card is a heck of alot better than that over-rated Skizzik. And better mana cost.
-
November 04, 2001
-- Anonymous
Ball Lightning is an amazing card that is nearly a guaranteed 6 damage, although it does have a drawback. The three red mana cost is sometimes a trouble because I play wasteland and sometimes, 2 red and a wasteland is all I get until turn 5 or 6, other than that and the first strike problem, I think this card is amazing!
-
June 26, 2001
-- Tim Destan
One of the best damage dealers for a Sligh deck, it usually means 6 points of damage for your opponent, and it tramples to avoid chump blockers. When you combine this with Lightning Bolt, Chain Lightning, Goblin Grenade, Mogg Fanatic, and Jackal Pup, you can make a Type 1 or 1.5 deck that almost always kills on turn four and sometimes by turn three. The one weakness of the otherwise superb Ball Lightning is that first strike creatures like White Knight, Paladin en-Vec, and Order of the White Shield can kill it before it deals combat damage. Still, it's a no-brainer for any Sligh deck.
-
July 26, 2010
-- Kap Pu Ki Han
yeah great card but nowadays wall of frost is blue's answer to this ... prefer to use it as SB...
-
October 04, 2005
-- freindly for fun
this card is wicked,i mean its not really a creture is it its a 3mana for six damage burn card,which by the way would be obscene,when damage gets higher damage ratios become somewhat irrelevent so more damage = good damage
-
December 02, 2002
-- Anonymous
A decent card, bordering on 4 stars. It's easy to play for a good amount of damage, but like other reviewers have mentioned, it's also easily hosed, especially in type 1 play (apart from the cards already mentioned: MANA DRAIN). And when it is hosed, you've probably lost a whole turn to it, which Sligh just can not afford to do.
-
August 03, 2009
-- kith
.... just like in the old days fire v.s water, hehehe ball of lightning v.s wall of frost.... nice ah.....
Fulfilled By:
TrollAndToad.Com
Sell to Us $2.44
*
* The 'Sell to Us' price may reflect an added website credit bonus. Other buy list payment methods will not include this.