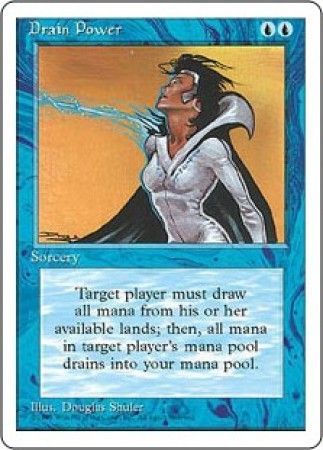 Condition:
Moderately Played
Fulfilled By:
TrollAndToad.Com
| | |
| --- | --- |
| Rarity | Rare |
| Color | Blue |
| Casting Cost | |
| Card Type | Sorcery |
| Card Text | Target player activates a mana ability of each land they control. Then that player loses all unspent mana and you add the mana lost this way. |
| Set | Fourth Edition |
| Artist | Douglas Shuler |
| Flavor Text | |
| Description | MTG 4th Edition Single Card |
| Release Date | 1995-04-01 |
| Dimensions | 0" H x 0" W x 0" D |
| Ship Weight | 0.004 pounds |
-
August 12, 2010
-- Brock
Use Drain Power with Blaze once you have Master Transmuter and Static Orb or Winter Orb in play, they will be left with nothing each turn while you bounce your Orbs back to your hand ( so you can untap all your permanents) before the begining of each turn to put Darksteel Colossus in play or whatever fatty artifact creacture you have in mind :) It helps to have Izzet Guildmage and/or Pyromancer Ascension for multiplayer games :)
-
June 04, 2010
-- Alucard
Let's you play huge spells like Eternal Dominion much much easier
-
August 01, 2008
-- William DeFoe
When you draw all of the mana from your opponent's mana pool, make sure you can use it all in that one turn. If you can't you get mana burn and they get their mana back next turn anyway.
Be careful of the mana burn, it's very important that your opponent either has the perfect amount of mana or that you have something to throw the excess into, maybe a freed from the real, a shade, a fire breathing creature, or preferably something that can use colorless mana. If you get it set up right this card can unleash a monstrous fireball or disintegrate. Great card, but you better watch out for that mana burn.
It seems good at first, but they can tap their lands in response to you playing this. At most you might gain 1 or two mana from this, essentially making this a UU mana short.
Condition:
Moderately Played
Fulfilled By:
TrollAndToad.Com