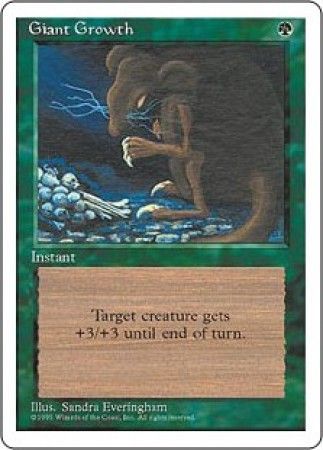 | | |
| --- | --- |
| Rarity | Common |
| Color | Green |
| Casting Cost | |
| Card Type | Instant |
| Card Text | Target creature gets +3/+3 until end of turn. |
| Set | Fourth Edition |
| Artist | Sandra Everingham |
| Flavor Text | |
| Description | MTG 4th Edition Single Card |
| Release Date | 1995-04-01 |
| Dimensions | 3.5" H x 2.5" W x 0.012" D |
| Ship Weight | 0.004 pounds |
-
August 11, 2010
-- William
Fun with the card Fling. Put it on a creature with trample let them attack then fling them for extra damage.
-
October 06, 2008
-- Steve
how can u rate this 3 stars. Lightning bolt is an expensive card, and this card is cheap, its also as good. lets pick it up a notch, if they incenerate ur river boa, u can prevent it with 1mana, n sets them 2mana down. The trick with this card is always try 2 keep it in ur hand until u feel it is graveliy needed. i always keep 1 mana empty as much as i can throughout the game if im playin pure red to scare the jesus joseph and moses out of them, i always stack my lands and keep that 1 on the side to give the opponent(s) a scare tatic and make em fret over wat 2 do. its not jus havin gd cards, its how u use them. Id have 14 in my deck if i could have the chance, but the power of this card will never make it happen
-
May 31, 2008
-- Will B. Staples
Versatile. Giant Growth is a triumph of design. It's a Lightning Bolt and Healing Salve all in one card.
-
January 07, 2008
-- J.J
Great card for mana cost, can save you in tough situation
-
February 25, 2006
-- erik
arguably the best boost card of all time
-
August 21, 2005
-- Bruce Daw
I give this 4 stars since it is so versitile you can use it to get an extra 3 damage on your opponent for 1 mana or enpower one of your creatures to kill an enemy creature , or help your creature to survive from an enemy burncard
-
February 18, 2005
-- Anonymous
swing, no blocks? Ok +3/+3 my point 3?, to the face for 1 mana!