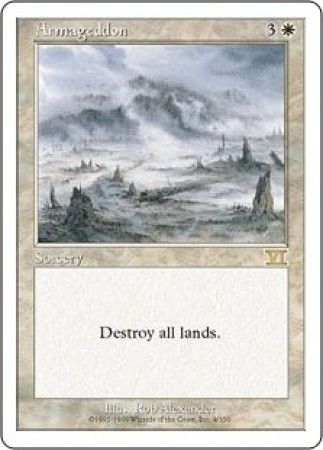 Fulfilled By:
TrollAndToad.Com
Sell to Us $5.14
*
* The 'Sell to Us' price may reflect an added website credit bonus. Other buy list payment methods will not include this.
| | |
| --- | --- |
| Rarity | Rare |
| Color | White |
| Casting Cost | |
| Card Type | Sorcery |
| Card Text | Destroy all lands. |
| Set | Classic Sixth Edition |
| Artist | Rob Alexander |
| Flavor Text | |
| Description | MTG 6th Edition (Classic) Single Card |
| Release Date | 1999-04-21 |
| Dimensions | 3.5" H x 2.5" W x 0.012" D |
| Ship Weight | 0.004 pounds |
-
February 09, 2010
-- Jens N
Mark, you're dead wrong. Wrath of God and Armageddon isn't supposed to hurt you as much as your opponent. You play these kinds of cards when you're gaining the most from it.

Example with Armageddon:
Your opponent has very few or no creatures on the battlefield, and you have more or stronger creatures than your opponent. You destroy all lands to deny your opponent any opportunities for casting something that could turn the tables, and then you swing with your creatures until he's dead.

Example with Wrath/Day of Jugdement/Damnation etc.:
Your opponent has very strong creatures on the bettlefield, or has overwhelmed you with tokens, and you don't have many creatures on the battlefield, as opposed to your opponent. You cast your sweep spell to kill everything, saving yourself from a massive beating from creatures that would have killed your creatures anyway.

I have been in many situations where a Wrath of God or a Damnation would have saved the day. But because I didn't have them, my opponent was either able to cast a Blaze on me for 10 damage or beat me with 3 6/5 Krosan Tuskers and a couple of 2/2 Wild Mongrels. If I had had a Wrath of God or an Armageddon at that time, the outcome of those matches could have been very different.
- never underestimate the strength of a well timed sweep spell.
This card was awesome before and even more awesome now with planeswalkers. As long you are the only one with a planewalker out, an armageddon will almost ensure victory. White has all the removal to ensure your the only one with planeswalkers and not to mention Elspeth is white to beat them down with constant tokens.
-
July 25, 2010
-- Jace the Mind Sculptor
I agree with "Jens"... Armageddon is crazy. Okay, for this card... is very devastating!!! In one day, I'm playing with my planeswalker deck. After Wrath of God all creatures, I cast two planeswalker Jace TMS and Gideon Jura. In Sixth Turn, I use Wrath of God again once more.... (and that time the opponent's creatures looks like being depleted), then I cast Armageddon in the Seventh Turn.... it's game over.... (use Jace TMS to fatesealing opponent's top library and Gideon Jura to attack!!!) Land will never come in your way....
-
July 16, 2010
-- Neil G.
With the recent addition of the "borderposts" this is even more playable. Now i have been playin this as a staple of all my white decks ever sense i dont know when, Add a couple of blooms and petals and presto, you can build so many different types of decks around it that its disgusting. Broken...Nuf said.
Yeah, Crucible of Worlds is good. Also, combine with Lord of Extinction or Terrivore for some *big* creatures. This is a pretty good sideboard card if you don't need lands late game, too. If your opponents plays Terramorphic Expanses and other similar cards, you can devastate him with this card.
-
April 01, 2009
-- trent crisp
Crucible of Worlds... I cannot believe nobody has mentioned this combo yet. If your looking at this card, go look at Crucible of Worlds right now if you don't know of it.
-
July 23, 2008
-- Anonymous
I run a rebel deck, and i use this because I can get all my rebels out really fast with their effects and low mana cost. then use this to kill the lands. Use Coat of Arms and their helpless.
-
September 29, 2007
-- Andrew Nguyen
This card goes well in the ermageddon (spelling?) deck. You first play mana accelerators like birds of paradise and llanowar elves. You drop a fatty like ernhamdjinn and nuke the lands with armageddon. Now you can continue to play spells and beat your opponent down while they're trying to build up their land base.
-
January 03, 2007
-- hisheroisgone
armageddon is much more useful when you are already winning the game, as it shuts off all hope of your opponent making a comeback.
-
September 12, 2006
-- Anonymous
this card is perfect if your winning, cuz it keeps your opponent from being able to do anything to get the lead back, it pretty much gaurantees you victory.
-
March 05, 2005
-- Anonymous
i didn't realize the system trollandtoad utilizes with the comments section. anyway, the comment from moi from gainesville is in reference to the 'armeggedon' in the 'portal' set(or maybe 'portal 2' i forget). ......
-
December 04, 2004
-- Lotus Starscream
Can ensure victory if you are ahead or help you come from behind if you have alot of big creatures in your hand and enough mana to support them.
-
October 30, 2004
-- Nick
Another Nuke, this card is unlike any other except for wrath as a reset button. Whats great is you use this when the board is going your way and you've basically won! Short list clearly!
-
January 25, 2002
-- Alan
One of the most powerful cards in Magic. It is a massive, game-altering card that, when used correctly, divestates your opponent. Combines well with wrath of god and artifact and creature mana sources. Never underestimate the power of mana denial.
-
February 22, 2005
-- boris chiu
are you gonna not to summon creatures?
-
November 23, 2002
-- Morgan
This card is really an annoying pest for your opponent if you are able to play it during the game, a deffinate must to have in your deck
-
February 14, 2006
-- me
when you use the card it destroys ALL lands including yours so if your losing it's pretty good but if your winning it's useless
-
January 24, 2004
-- Glitch the Almighty
Simple...but deadly. Later in the game, when your friend brings out the big guns, play this and smile as your buddy curses you. Fun.
-
September 10, 2003
-- Ernesto
Hook this up with a dingus egg or two and a reverse damage for some multi player fun.
-
December 16, 2009
-- Mark
This card is so stupid. I cant think of a time when I want destroy all my lands. Like Wrath of god this is a card that has no place in a deck. dont play cards that hurt you just as much as they hurt your opponent. it gives you no advantage in the game at all. think about it you guys.
Fulfilled By:
TrollAndToad.Com
Sell to Us $5.14
*
* The 'Sell to Us' price may reflect an added website credit bonus. Other buy list payment methods will not include this.