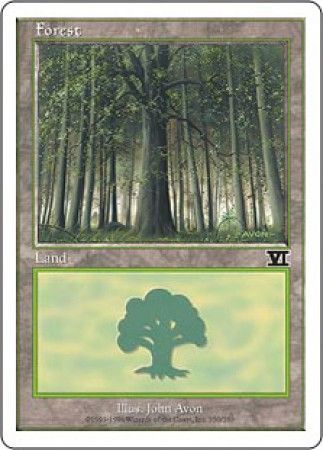 | | |
| --- | --- |
| Rarity | Basic Land |
| Color | Lnd |
| Card Type | Land |
| Card Text | |
| Description | MTG 6th Edition (Classic) Single Card |
| Dimensions | 3.5" H x 2.5" W x 0.012" D |
| Ship Weight | 0.004 pounds |
-
February 06, 2002
-- Anonymous
This Card is the best! You absolutely cat under any circumstances play a green deck without it.
-
March 11, 2010
-- Jens N
Well, yeah, Klatremus, you go ahead and spend a million on the old dual lands and waste them in a mono green deck instead of using them where they'd actually do any good (namely multicolored decks)...Anyhow, back to the card - anything that provides mana for free has got to be great, right? Also, the art isn't bad - 4/5 :b
-
April 27, 2002
-- Klatremus
Of course you can, Ohio! A green deck can work perfectly with 4 Bayou, 4 Taiga, 4 Tropical Island, 4 Savannah, 4 Llanowar Wastes and 4 Elfhame Palace. 24 lands for you there, mate!