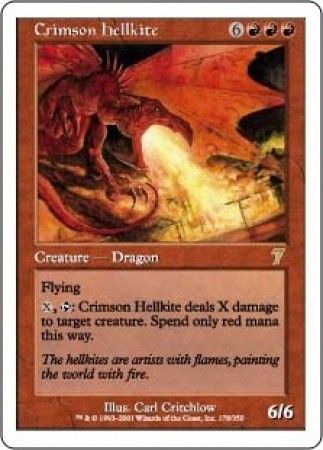 | | |
| --- | --- |
| Rarity | Rare |
| Color | Red |
| Casting Cost | |
| Card Type | Creature - Dragon |
| Card Text | Flying,: Crimson Hellkite deals X damage to target creature. Spend only red mana on X. |
| Creature Type | Dragon |
| Set | Seventh Edition |
| Artist | Carl Critchlow |
| Flavor Text | The hellkites are artists with flames, painting the world with fire. |
| Description | MTG 7th Edition Single Card |
| Release Date | 2001-04-11 |
| Dimensions | 3.5" H x 2.5" W x 0.012" D |
| Ship Weight | 0.004 pounds |
-
June 17, 2004
-- Raven Belmont
This used to be my best card but I some how lost it...... back off this card is mine
-
June 13, 2009
-- Veteran Planeswalker
just use 2 seething songs and a lightining bolt and u will get an eplosive entrance for 6 instead of 9
-
April 24, 2004
-- Anonymous
this card is 1 of my favorite cards, i mean how do u go wrong with a 6/6 flying. even though it cost a lot 2 put out its not like u have 2 sacrafice any land, just tap
-
December 09, 2002
-- LS-Shadowdancer
Crimson Hellkite is the Best Dragon of all editions!!!!!!!!!!!!!!!!
-
November 05, 2002
-- james
James and justin think that it is the best one ever. It is just so cool and I like to look at it when im in the bathroom.
-
January 18, 2006
-- ben
This card rocks.Great against forest and swamps.
-
September 16, 2004
-- Steve
A little costly for a 6/6 flier, but the burner creatures ablility rocks. One of my favs!
-
November 14, 2002
-- Anonymous
9 mana is quite a lot but it is still an excellent card.
-
June 18, 2002
-- Brady Scanlan
Whats better than a fireball with wheels later on in the game?
-
March 03, 2008
-- rogonandi
The dragon has some decent control, destroying creatures in a way that a burn card like fireball or disintegrate can...but it costs too much mana for what it does. It's cool, but impractical.
-
September 16, 2007
-- Chris
This card is kinda pointless because of it's high cast cost. and it's burn creatures effect isn't that great because it's limited to creatures. nonetheless in a dragon/burn deck like mine you can dragonstorm and get it out that way otherwise it's not rly worth it.
-
November 29, 2002
-- Patrick
Great with a sneak attack lifeline deck, or if u can elvish piper it in to play. Bottom line is, it costs too much to play, but find a way to get it in cheap and its amazing.
-
April 16, 2002
-- Anonymous
Good for reanimator decks, but otherwise it's just too expensive.