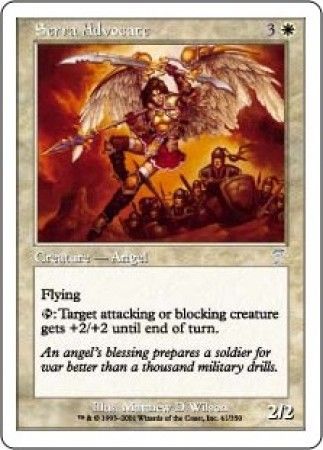 | | |
| --- | --- |
| Rarity | Uncommon |
| Color | White |
| Casting Cost | |
| Card Type | Creature - Angel |
| Card Text | Flying: Target attacking or blocking creature gets +2/+2 until end of turn. |
| Creature Type | Angel |
| Set | Seventh Edition |
| Artist | Matthew D. Wilson |
| Flavor Text | An angel's blessing prepares a soldier for war better than a thousand military drills. |
| Description | MTG 7th Edition Single Card |
| Release Date | 2001-04-11 |
| Dimensions | 3.5" H x 2.5" W x 0.012" D |
| Ship Weight | 0.004 pounds |
-
September 16, 2009
-- Jens N
This card is simply awesome, and on top of that, the art is beautiful too!
this card is so good i can't even contain my excitement.
whenever i play it, one of two things occur:
1. the opponent concedes
2. i win the game within the next phase.
+2/+2 is no joke and this baby aint nothin to sneeze at
-
April 17, 2009
-- Justin
A good card especially if you need a little push for your blockers or attackers. Use with sustainer of the realm and you now have a 4/7 blocker.