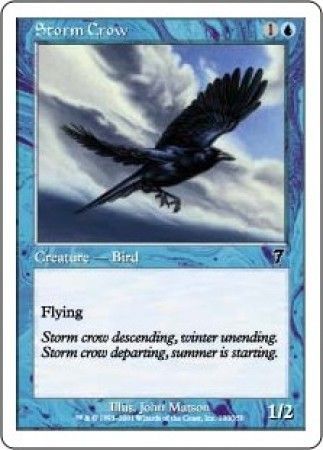 | | |
| --- | --- |
| Rarity | Common |
| Color | Blue |
| Casting Cost | |
| Card Type | Creature - Bird |
| Card Text | Flying (This creature can't be blocked except by creatures with flying or reach.) |
| Creature Type | Bird |
| Set | Seventh Edition |
| Artist | John Matson |
| Flavor Text | Storm crow descending, winter unending. Storm crow departing, summer is starting. |
| Description | MTG 7th Edition Single Card |
| Release Date | 2001-04-11 |
| Dimensions | 3.5" H x 2.5" W x 0.012" D |
| Ship Weight | 0.004 pounds |
-
April 30, 2011
-- IN LOVE
I wish I could have given this card 10 stars out of five. Nothing can stop Storm Crow once it is on the field.
-
September 07, 2009
-- Marius Diomonde
It won't decide games, but its a solid deckstuffer.
Broken Card
Really don''t know what Wizards was thinking when they printed this card. It easily breaks every meta. I can understand the validity of cards like Black Lotus, Ancestral Recall, Time Walk and the Moxen in certain formats but Storm Crow is simply too good to be used in ANY game of Magic.