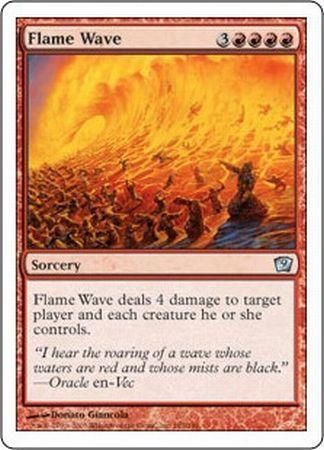 | | |
| --- | --- |
| Rarity | Uncommon |
| Color | Red |
| Casting Cost | |
| Card Type | Sorcery |
| Card Text | Flame Wave deals 4 damage to target player or planeswalker and each creature that player or that planeswalker's controller controls. |
| Set | Ninth Edition |
| Artist | Donato Giancola |
| Flavor Text | "I hear the roaring of a wave whose waters are red and whose mists are black." —Oracle *en*-Vec |
| Description | MTG 9th Edition Single Card |
| Release Date | 2005-07-29 |
| Dimensions | 3.5" H x 2.5" W x 0.012" D |
| Ship Weight | 0.004 pounds |
-
December 01, 2005
-- Dustin
If you can kill 1000 3/3 rat in one shot with a nother card tell me!!!!!!!!!
-
September 19, 2005
-- Anonymous
Expensive, but good enough to leave your toughest opponents vulnerable. Protect it against counterspells.
-
August 08, 2005
-- mazk
oh man its a little pricy, but in a burn deck its a finisher. i'll take four.
-
December 03, 2009
-- Jens N
Decent card with a cool concept - 4/5
-
May 28, 2007
-- Rogonandi
This is a very good card. It does 4 damage to everything on your opponent's side, including your opponent himself. It's especially useful against those pain in the butt swarm decks that can pop up from time to time, but even if your opponent isn't playing such a deck, it'll still kill all but the strongest monsters he has on his side. The biggest problem with this card is that though 7 mana's a bit costly, 4 of it has to be red, so it would be better suited to be played in a purely red deck or you may have to wait until you get 4 mountains out...or play something like Brightstone Ritual or Seething Song.
-
June 29, 2005
-- Anonymous
the ubove review states a fact about it's above review when ther is none. a good card.
-
January 27, 2003
-- ~ wde
The above review is incorrect. Seven mana is little to pay to wipe out almost all of your opponent's creatures and deal a reasonable amount of damage.