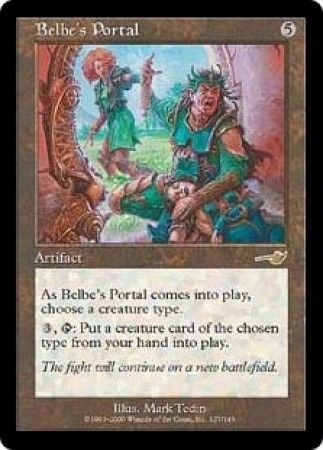 Fulfilled By:
TrollAndToad.Com
Rarity
Rare
Color
Artifact
Casting Cost
Card Type
Artifact
Card Text
As Belbe's Portal comes into play, choose a creature type.

,: Put a creature card of the chosen type from your hand into play.
Set
Nemesis
Flavor Text
The fight will continue on a new battlefield.
Description
Nemesis Single Card
Dimensions
3.5" H x 2.5" W x 0.012" D
Ship Weight
0.004 pounds
Try this with a colorless eldrazi deck and watch your opponent cry. Use all is dust to destroy all the colored cards. and for three mana you can toss out some of the most AWESOME cards in all of mtg history.
-
April 28, 2010
-- Scott
This is one of the most broken cards in Magic. For a creature-specific deck like dragons or angels, there's nothing better. Getting this out essentially means every creature in your deck costs 3 colorless to play, and has Flash.
-
September 14, 2002
-- cmoore
Use this in combo with Captain Sisay and get the Dragon Legends into play in no time!!
-
January 14, 2002
-- Danniel DeLorme
One word DRAGONS nead I say more
Not bad if you have a creature specfic deck.But I would suggest Quicksilver Amulet or if you have mulit-colors use Dragon Arch
-
January 12, 2003
-- Anonymous
Might I suggest combining this with a card called Conspiracy? Imagine any creature in your deck costing only 3 to cast. Hello Krosan Colossus, Hypnox, or whatever other extremely dangerous yet expensive creature you have.
Fulfilled By:
TrollAndToad.Com