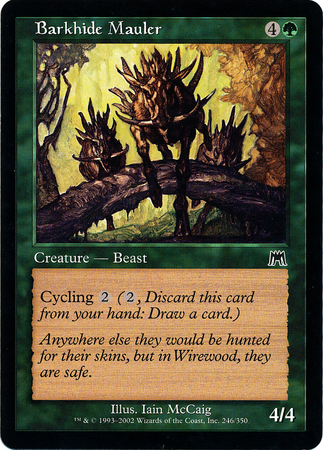 | | |
| --- | --- |
| Rarity | Common |
| Color | Green |
| Casting Cost | |
| Card Type | Creature - Beast |
| Card Text | Cycling (, Discard this card: Draw a card.) |
| Creature Type | Beast |
| Set | Onslaught |
| Artist | Iain McCaig |
| Flavor Text | Anywhere else they would be hunted for their skins, but in Wirewood, they are safe. |
| Description | Onslaught Single Card |
| Release Date | 2002-10-07 |
| Dimensions | 3.5" H x 2.5" W x 0.012" D |
| Ship Weight | 0.004 pounds |
-
November 09, 2002
-- Dennis Babineau
I think barkhide mauler is such a great card. I mean, ive seen blue cards that are worse than it. What this card needs is protection from mongers, then id say its the best card ever. I also enjoy waffles.
-
March 02, 2003
-- Anonymous
card sucks 5 for a 4/4 with no abilities i have a 4/1 with trample that costs 3
-
February 01, 2003
-- Brent K
This card isn't so good. If you want to see some good green cards check out Avatar of Might and Thorn Elemental.