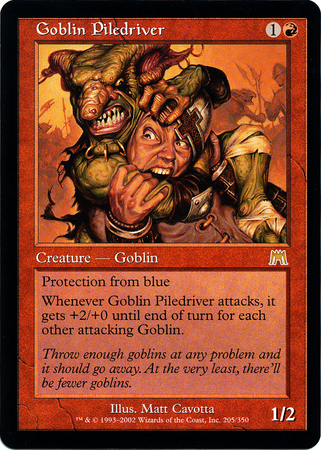 Fulfilled By:
TrollAndToad.Com
Sell to Us $4.52
*
* The 'Sell to Us' price may reflect an added website credit bonus. Other buy list payment methods will not include this.
| | |
| --- | --- |
| Rarity | Rare |
| Color | Red |
| Casting Cost | |
| Card Type | Creature - Goblin |
| Card Text | Protection from blue (This creature can't be blocked, targeted, dealt damage, or enchanted by anything blue.) Whenever Goblin Piledriver attacks, it gets +2/+0 until end of turn for each other attacking Goblin. |
| Creature Type | Goblin,Warrior |
| Set | Onslaught |
| Artist | Matt Cavotta |
| Flavor Text | Throw enough goblins at any problem and it should go away. At the very least, there'll be fewer goblins. |
| Description | Onslaught Single Card |
| Release Date | 2002-10-07 |
| Dimensions | 3.5" H x 2.5" W x 0.012" D |
| Ship Weight | 0.004 pounds |
-
July 10, 2015
-- Jarred
Verified Buyer
Amazing Reprint
This thing is gonna do work in standard with the rabblemaster. I promise.
-
December 30, 2009
-- grant
one of the best goblins ever. as for it being to expensive for casual yes but in my opion a goblin deck with 4x piledriver is not casual its pretty serious.
-
November 06, 2009
-- Anonymous
Goblin Piledriver is worth every dollar, in spite of random price fluctuations...people don't just give theirs away...and it will probably never be reprinted.
-
August 26, 2009
-- ninjaziou
this card is great in a goblin deck Pretty expensive money wise though.... but the top three have to be Goblin witch, reckless one (he will have better defence than piledriver), and when used right siege gang commander or arms dealer. Goblin caves is a nice card to have in a goblin deck too.
-
August 21, 2009
-- Anonymous
this card is beast. my friend has killed two people in one turn in multiplayer because of him. he attacked with everything to kill one person then sacked all the other goblins to him using goblin sledder. then used fling on him to another players life. and thats how its done
I dont see anyone mentioning Goblin Wizard out there...1-Lackey, 2-Recruiter, 3-Piledriver, 4-Wizard, 5-Sharpshooter, 6-Siege Gang
-
October 12, 2008
-- Awesome Greg
In one of my games, my opponent picked up my Goblin Piledriver, and it promptly broke his arm. That's how insanely powerful these are.
-
September 06, 2008
-- Anonymous
I can't believe no one mentioned goblin general. That is surely one of the best.
-
February 02, 2008
-- Pyro
best goblin cards out there in no paticular order:goblin lackey goblin wizard kiki-jiki mirror breaker goblin piledriver.each card is only as strong as the cards you have around it.
-
January 27, 2008
-- Maxx
Best goblin ever, pro blue allows him to stay on the feild in he reoves and the spike shot suck, it seriouly does. and that is why he is $14 and the spikshot is like a few pennies.
-
February 15, 2007
-- Anonymous
Easily the best goblin around and possibly one of the best two mana creatures able to pull off turn 4 kills easily. (goblin sledder, piledriver, goblin warcheif and seige gang) not to mention all of the other goblin combos around. Worth every penny and dont forget gempalm incinerator who can help clear the feild of your opponents pests.
-
September 20, 2006
-- snakerichie
I've only got 1 :(. Too expensive. btw Goblin sharpshooter owns spikeshot.
-
February 22, 2006
-- Alonso Aravena
ohhhhhhhhhhhhhhhh, i think that i am looking at one of the best-elite goblins. My sligh deck blesses the guy that created it. THANK YOU.
-
October 30, 2004
-- Ben
It's got protection from blue! It's red. It grows when other goblins attack! The #1 goblin of all time, which is tied for the #1 creature type of all time (with angels). They kill fast.
-
February 06, 2004
-- Jeff Samual
WOW! This one of the gretest goblins ever, and it has pro blue! It is good.
-
December 19, 2003
-- Mauro
A must have in every Goblin deck.
-
April 30, 2003
-- Matt Price
Sure his nickname is the head humper from heck but hey this card is one of the best cards for a sligh deck i highly recomend it after a few turns your opponent will understand why his nickname is the head humper
-
April 17, 2003
-- Stuart Malcolm
This card can pull off turn 3 kills
-
April 05, 2003
-- Anonymous
Say hello to the god of T2 Sligh
-
March 22, 2003
-- Stuart Malcolm
Absolutely amazing in a goblin/sligh deck
-
August 04, 2010
-- el_chanis
beside the fact that he need people arround him to be popular (i mean... hit hard), he dont do anything. Very powerfull in the goblin deck, but only becuse its supported by all the company. Its far far away from the "goblin top". Goblin Lackey its, was, and will be the best goblin ever (for a goblin deck), followed by the warchief and the ringleader and most recently, the instigator.
-
December 15, 2009
-- Jens
Good card, but despite of the above comment, I still think the Piledriver is too expensive -- you don't see many of these nowadays, and that's because they are too expensive for people to buy. If you want a normal casual deck, there's no way you would get your hands on this :(
-
March 31, 2006
-- Anonymous
its a gr8 goblin but lets face it... theres better...spikeshot.
-
November 04, 2003
-- Dark Wolf
this is an amazing card for fast goblin decks! Just get this sucker on the board and attack all out.. this one will lay one heck of a hurting on your opponent! It just appears as a 1/2 for 2 mana, but when it attacks with the rest, it becomes huge!.. Example.. I had 2 goblin grapplers, 1 goblin warchief, 1 goblin king, 1 goblin taskmaster, and 2 goblin brigands in play with the goblin piledriver.. I attacked with everything... well the goblin piledriver did 14 damage alone.. (gets +2/+0 for each other goblin attacking!) Can't beat that, especially when you toss in some burn to clear the path for him.. ouch!It deserves a 4 star rating.
I had a friend who thought these were great... 'til I blocked it with a White Knight and killed it. Then he realized how over-rated and vulnerable this thing is. Sure, it can get big on offense, but there is no freakin' way this thing should cost even close to what it does. There are several goblins out there that are much better and cost less. Don't get me wrong, this is a decent card, but absolutely should not cost more than a few bucks at the most.
Fulfilled By:
TrollAndToad.Com
Sell to Us $4.52
*
* The 'Sell to Us' price may reflect an added website credit bonus. Other buy list payment methods will not include this.