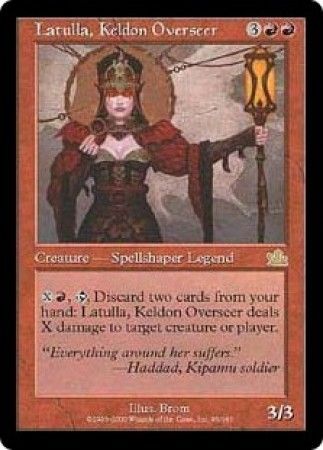 EVO Merchant:
Mr Magic LLC
Fulfilled By:
TrollAndToad.Com
| | |
| --- | --- |
| Rarity | Rare |
| Color | Red |
| Casting Cost | |
| Card Type | Creature - Spellshaper Legend |
| Card Text | ,, Discard two cards: Latulla, Keldon Overseer deals X damage to any target. |
| Creature Type | Human,Spellshaper |
| Set | Prophecy |
| Artist | Brom |
| Flavor Text | "Everything around her suffers." —Haddad, Kipamu soldier |
| Description | Prophecy Single Card |
| Release Date | 2000-06-05 |
| Dimensions | 3.5" H x 2.5" W x 0.012" D |
| Ship Weight | 0.004 pounds |
-
December 23, 2001
-- Nate
This card has many good uses. Keep discarding two copies of Squee, Goblin Nabob, and keep doing damage. Or pitch two copies of Volley of Boulders on turn six -- triple ouch. Or you can always use her just to get threshold...
-
October 06, 2001
-- Drew Johnson
Latulla is the red mages girlfriend (not really, but it sounded good). She has a built in x damage spell that can be reused. A howling Mine or a heightned Awarness will make it so you can use her every turn. And at this low price, Latulla is a must-buy!
Latulla is a great addition to any red deck. This 3/3 creature for 5 is definetly extraordinary. Its ability X,one red, tapping it and discarding 2 cards for a reusable blaze is a very life killing ability. In almost every game I play with my black/red deck, Latulla, Greel, Avatar of Woe and/or Avatar of Fury has helped me win it. If you get 4 of this card combined with searching combos(Spore frog and pattern of rebirth) you can get it early to eliminate early creatures and dominate the game.
-
April 10, 2002
-- master of the avatars
It looks like a good card i haven't played it before. I mean i opened 2 prophecy booster boxes the day it came out and the only things i'm missing is her and alexi. Man that sucks and the prophecy story has a very large focus on her.
-
October 28, 2001
-- Anonymous
this card is bad, so sayeth the bey.
EVO Merchant:
Mr Magic LLC
Fulfilled By:
TrollAndToad.Com