Knight of the White Orchid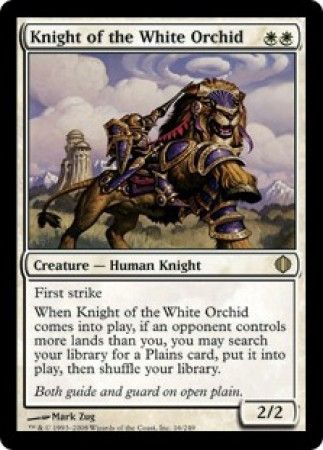 EVO Merchant:
Sam's Corner TCG's
Fulfilled By:
TrollAndToad.Com
| | |
| --- | --- |
| Rarity | Rare |
| Color | White |
| Casting Cost | |
| Card Type | Creature - Human Knight |
| Card Text | First strike When Knight of the White Orchid enters the battlefield, if an opponent controls more lands than you, you may search your library for a Plains card, put it onto the battlefield, then shuffle your library. |
| Creature Type | Human,Knight |
| Set | Shards of Alara |
| Artist | Mark Zug |
| Flavor Text | Both guide and guard on open plain. |
| Description | Shards of Alara Single Card |
| Release Date | 2008-10-03 |
| Dimensions | 3.5" H x 2.5" W x 0.012" D |
| Ship Weight | 0.004 pounds |
-
December 04, 2010
-- Jay
I run these guys with the Lair-lands and Mox Diamonds. It's incredibily fast. And once I've got my kill in place I just Armageddon Turn3-5 and replay a land I bounced with Lairs, attack and pass--leaving (W) for a STP just in case. I've been considering Gideon Jura as my beatstick for this build, so I can also run WoG w/o any concern, but it may be awhile since they're soo expensive...
Very good, 2/2 first strike with white turbo powers. Seriously, what's not to like?
got lucky i got a foil one in my first turnment pack that is it was the first thig of magic i ever got
-
September 03, 2009
-- Greg
oh, and this card with the borderposts is insane! Turn 1 play a land and bounce it for a borderpost, turn 2, your opponent will have more than one land (if he doesn't, you've probably got an easy game, anyway), so go ahead and play this and ramp yourself up a land! and using this card with Path to Exile is just really really synergistic (that may not be a word). wow!!
-
August 18, 2009
-- Anonymous
i wrote a review and for got to give it stars
this guy makes using path to exile less of an advantage to your opponent, since you can just use him to even out the land advantage you've just given up.
-
October 08, 2008
-- Seth
Wow. Just WOW! Such a great card! It's wonderful to see WotC finally taking white seriously. This guy is totally bonkers in a white weenie deck, or really any deck with a strong white base. Missing that last Plains to full charge your Figure of Destiny? Problem solved! Wondering how to pump your Stillmoon Cavalier? Taken care of! Too many WW casting cost creatures and only one white mana? Don't worry about it! This guy accelerates a white weenie deck so fast. Take this turn two play, on the draw: play your second Plains. Your opponent has three land in play, so the White Orchid's ability triggers. Put another Plains into play *untapped*, and play a Figure of Destiny, or any other white one drop. BAM! What's that smell? Synergy, that's what!
-
January 27, 2009
-- greg
if you only have one white mana you can't play this in the first place. sorry. this is pretty good though...the part that says you can't have as much land as your opponent will make this just a knight of meadowgrain minus the lifelink more often than not. but if your weenie deck tops out at 3 or 4, and you're stuck on two, this comes pretty close to solving your problem...a 2nd one and then an endless horizons is very nice.
EVO Merchant:
Sam's Corner TCG's
Fulfilled By:
TrollAndToad.Com