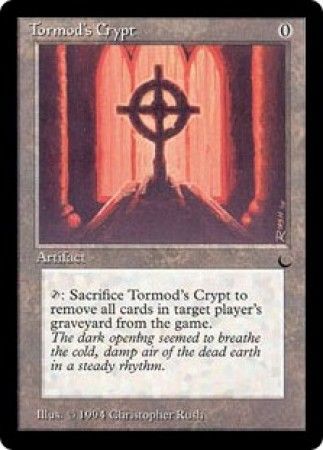 Condition:
English Near Mint
Fulfilled By:
TrollAndToad.Com
| | |
| --- | --- |
| Rarity | Uncommon |
| Color | Artifiact |
| Card Type | Artifact |
| Card Text | , Sacrifice Tormod's Crypt: Exile all cards from target player's graveyard. |
| Set | The Dark |
| Artist | Christopher Rush |
| Flavor Text | The dark opening seemed to breathe the cold, damp air of the dead earth in a steady rhythm. |
| Description | The Dark Single Card |
| Release Date | 1994-08-01 |
| Dimensions | 3.5" H x 2.5" W x 0.012" D |
| Ship Weight | 0.004 pounds |
-
October 19, 2009
-- teehee tummytums
Great card! Stops "reanimation" strategies that are so popular
-
October 30, 2006
-- Anonymous
I love seeing a good old school card still being used today. Very useful and can disrupt many of today's vintage and extended decks. I'm a hardcore oldschool player, and really like to see more players using good cards and learning.
-
April 18, 2005
-- Dustin
This goes excellent in a reanimator deck. Play the crypt, then play death pit offering. Remove opponents graveyard and play living death. Also goes well with conspiracy & patriarch's bidding. Tormod's Crypt in my opinion is my personal favorite artifact.
-
February 11, 2008
-- Anonymous
about now, crypt is closing in on a staple status in the board or even the main in both extended and T2. Trinket mage gets it to your hand in extended and wrecks your opponent's yard. The only problem is Krosan Grip and Pithing needle.
-
February 06, 2008
-- Will
In addition to working well with a mill deck, Tormod's Crypt also shuts down decks built around Dredge (and all other forms of recursion), Threshold, Flashback, Soulshift, Recover, and any other graveyard-related strategies. I give it a 4 instead of a 5 because it's mainly sideboard material.
great card for a blue deck if you combo it with tramatize
-
February 16, 2006
-- Spin
I like using 'Tormod's Crypt' in my 'Mill' Deck. After using both 'Millstone' and 'Glimpse the Unthinkable' many times, it's fun to make sure your opponent won't get those cards back. Plus it's obscenlely cheap to play at 0 mana.
-
October 10, 2004
-- Ron Chan
this card is great in a island deck.A (T.C.C) three card combo .T.ormods crypt sacrifice tormods crypt to remove all cards from target graveyard U.nsummon return a creature to target controllers hand or play Boomerang return a target permanant to target players hand T.orlian wind's discard your hand and draw that many cardsThe T.U.T combo or T.B.T will workplay this combo when opponent plays a strong creatureor permanent
Condition:
English Near Mint
Fulfilled By:
TrollAndToad.Com