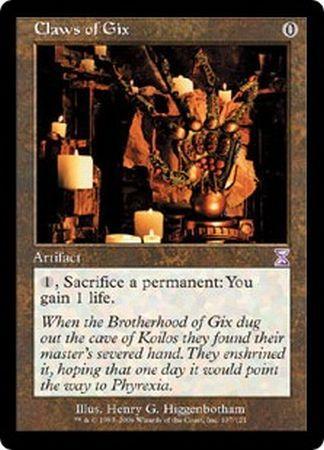 | | |
| --- | --- |
| Rarity | Special |
| Color | Artifact |
| Card Type | Artifact |
| Card Text | , Sacrifice a permanent: You gain 1 life. |
| Flavor Text | When the Brotherhood of Gix dug out the cave of Koilos they found their master's severed hand. They enshrined it, hoping that one day it would point the way to Phyrexia. |
| Description | Time Spiral Time-Shifted Single Card |
| Dimensions | 3.5" H x 2.5" W x 0.012" D |
| Ship Weight | 0.004 pounds |
awesome sacrifice source in 'Persist' deck in responce to removal (E.G.: Sword to Plowshares, Path to Exile, Oblivion Ring, Journey to Nowhere); also great for Block/Sacrificing to null their biggest creature w/o Trample... and then shrapnel blast it later on for the kill...
-
February 25, 2007
-- Anonymous
play an affinity deck with 2x lifelines, throw this in and watch your life total skyrocket.
-
August 10, 2002
-- Critic 101
On it's on this card is ok but not great, but stick it into a token deck (eg squirrels or saprolings) and all of a sudden you have a great way of gaining tons of life!!
-
February 23, 2005
-- Anonymous
one of those borderline cards that always seems to be rotating in and out of your deck over time. personally, whenever the bounce or control type cards seem to be particularly strong in the metagame i'd think of these babies. also, when a new deck type like affinity comes along you think of this to. usually doesn't make the cut though although i'd think about it if they'd unrestrict 'tolarion academy' in type 1, making it available for other formats. which will happen when pigs fly..........