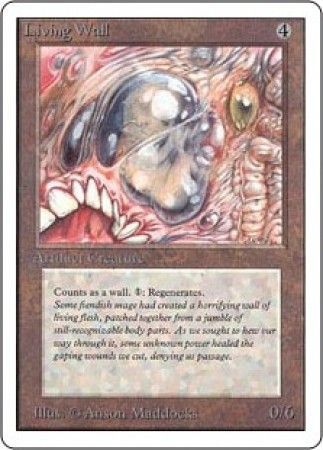 Condition:
English Moderately Played
Fulfilled By:
TrollAndToad.Com
| | |
| --- | --- |
| Rarity | Uncommon |
| Color | Artifact |
| Casting Cost | |
| Card Type | Artf Crt |
| Card Text | Defender (This creature can't attack.): Regenerate Living Wall. |
| Creature Type | Wall |
| Set | Unlimited Edition |
| Artist | Anson Maddocks |
| Flavor Text | Some fiendish mage had created a horrifying wall of living flesh, patched together from a jumble of still-recognizable body parts. As we sought to hew our way through it, some unknown power healed the gaping wounds we cut, denying us passage. |
| Description | Unlimited Single Card |
| Release Date | 1993-12-01 |
| Dimensions | 0" H x 0" W x 0" D |
| Ship Weight | 0.004 pounds |
-
May 24, 2011
-- Royal Assassin
One of my favorite Magic cards of all time for both the art and flavor text. "fiendish mage" - I love it!
-
August 07, 2007
-- Daniel Reed
0/6 wall... for 4 mana... with a regeneration cost of one? This is a very, very nice wall card, in my opinion.
-
April 21, 2006
-- Brian Maglicic
many people feel this is the best champion in spellfire and i have to agree
-
August 03, 2011
-- Jason Roberts
An extremely good card. The only drawbacks are that it is ground and can't block Juggernauts.Aren't all walls made by man?
-
March 24, 2011
-- Graey
I think living wall is an artifact by virtue of having been constructed by Man. Most Summons are beings that live and die on their own with their own natural life cycles. They'd exist even if you never summoned them. The living wall on the other hand is a hodgepodge of various life forms that were shoved together by some sick individual. So it's an artifact because somebody, rather than nature, made it what it is. Just my theory.
-
August 04, 2009
-- Pete's pipe smoking parakeet
Me neither... this is probably the most ironic example of a mismatched identity in MTG. Artifacts, by their very nature, tend to be the more "lifeless" cards of the game, yet this one wall that has more reason then any other NOT to be an artifact is in fact an artifact creature. Funny how how "Wall of stone" is not an artifact creature, yet "living wall" is... lol. No big deal, really, just funny...
-
July 24, 2009
-- Blaster
I never understood why this was an artifact creature...
Condition:
English Moderately Played
Fulfilled By:
TrollAndToad.Com