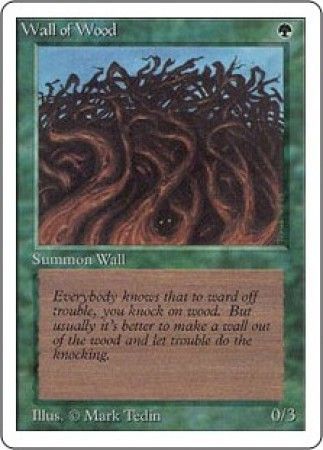 | | |
| --- | --- |
| Rarity | Common |
| Color | Green |
| Casting Cost | |
| Card Type | Summon Wall |
| Card Text | Defender (This creature can't attack.) |
| Creature Type | Wall |
| Set | Unlimited Edition |
| Artist | Mark Tedin |
| Flavor Text | Everybody knows that to ward off trouble, you knock on wood. But usually it's better to make a wall out of the wood and let trouble do the knocking. |
| Description | Unlimited Single Card |
| Release Date | 1993-12-01 |
| Dimensions | 3.5" H x 2.5" W x 0.012" D |
| Ship Weight | 0.004 pounds |
-
October 08, 2010
-- MST
This is one of the cards that got me interested when I first started playing (during Unlimited). This thing will repeatedly stop other 1cc creatures, unless your opponent(s) wish to waste a spell to get rid of it. Staple in my deck long before tinder wall came out.
-
March 15, 2005
-- Krusty Boy
Wall of wood is by no means a bad card. It's just that there are so many better common cards out there. Get a Birds of Paradise or Pouncing Jaguar and then forget about this unspectacular card.
-
May 15, 2008
-- Lunaticfringe
This card is an inferior version of Tinder Wall from Ice Age. I like the low casting cost, but it would pain me to play it thinking about Tinder Wall
-
June 04, 2005
-- Anonymous
This card sucks. Wall of Timber in Ice Age does the same thing but speeds up your deck.