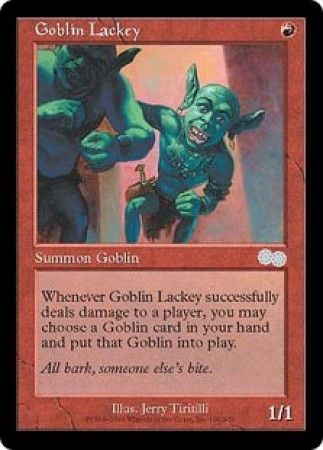 | | |
| --- | --- |
| Rarity | Uncommon |
| Color | Red |
| Casting Cost | |
| Card Type | Summon Goblin |
| Card Text | Whenever Goblin Lackey deals damage to a player, you may put a Goblin permanent card from your hand onto the battlefield. |
| Creature Type | Goblin |
| Set | Urza's Saga |
| Artist | Jerry Tiritilli |
| Flavor Text | All bark, someone else's bite. |
| Description | Urza's Saga Single Card |
| Release Date | 1998-10-12 |
| Dimensions | 3.5" H x 2.5" W x 0.012" D |
| Ship Weight | 0.004 pounds |
-
September 28, 2010
-- el_chanis
the best goblin in a goblin deck (individualy, its the siege-gang). just to powerfull.
-
February 24, 2010
-- Khurtz
I mostly agree with Jans comments except for the one about lackey being good in casual play. Lackey is probably the best goblin for competitive play. Period. Granted Instigator has the ability to either kill a 1/1 or drop 2 gobbos instead of one that lackey does not, however the 2 casting cost (without haste) is a big deal. You need speed in a goblin deck, that's what they're all about. If you don't open your hand with a Goblin Lackey or an Aether Vial it's time to mulligan anyways. If you're concerned about not being able to swing in with lackey because your opponent drops a first turn defender then I recommend one or more of the following cards: Pyrokinesis- Amazing in gobbo since it's free and can kill up to a 4 defense creature, Gempalm Incinerator- Gets cycled turn 2 for 1 damage (with lackey on the board) which generally will correspond with the toughness of the creature your opponent drops to block, Stingscourger- Not an option I use a lot, but it bounces anything without some form of evasion back to your opponents hand leaving you free to swing in with lackey.
This card's price speaks for itself. Can you think of another not-so-old uncommon that's worth nearly 10 bucks?
-
November 20, 2005
-- RAK
A Goblin card with 1/1 for one with an ability is relatively efficient. When you add this ability, suddenly, it becomes insane. The ability to get an extra Goblin out on turn two is not an ability to sniff at. When that Goblin is a Siege-Gang Commander or a Piledriver, that extra mana you've saved can be used to play another Piledriver or Mogg Fanatic to attack next turn. Being banned in the relevant format for tournaments ever since it was used successfully was a blow to it and as it is no longer in Extended, playing it in Legacy is probably the only place where it can be effectively used. However, looking at recent Grand Prix results in Philadelphia, Goblin Lackey must have been an integral card used. An overpowered card for a low cost.
-
April 30, 2004
-- Anonymous
this card is GOOD. stacking your libray is good. to bad it is now banned in extended
-
February 01, 2004
-- kaas
This card is extreme, no wonder they banned it
-
March 25, 2003
-- Stuart Malcolm
-
December 22, 2002
-- GOBLINDECKOWNER
IF YOU HAVE A GOBLIN DECK THIS CARD AND GOBLIN MARSHAL IS A MUST.THIS CARD CAN MAKE YOUR BEGINNING UNBETEBEAL
-
May 24, 2010
-- Anonymous
One of the best 1/1 Goblins for a R. With burn to clear the way allows you to put lots of pressure on your opponent. Remember the goal here is to win by the 5th or 6th turn. Put out Goblin Marshal use Goblin Grenade, and 3rd turn Trumpeting Blast and it is all over. Far superior than Moggcatcher in every way.
-
October 25, 2009
-- Jens N
No person true to their Goblin deck should play Moggcatcher. For starters, it's too slow in use, and secondly, it's NOT a goblin, meaning it won't get any benefits from Goblin King, Goblin Warchief and the like.Goblin Lackey is a game breaking card when it's best. At worst, it's probably worse than Raging Goblin. If you start by playing the Lackey, and your opponent doesn't cast a creature or kill it with a spell, the game quickly swings in your favor. You can get a Siege Gang Commander onto the battlefield on your second turn without paying for it. On the other hand, the low toughness of the Lackey means, that it's an easy kill. If you play Goblin Lackey on your first turn, and your opponent shoots it with a Lightning Bolt on his second, you might' as well have played a Raging Goblin. At the very least, that would have gotten in for 1 point of damage before it died.Another card worth mentioning here is the Warren Instigator. It's the Goblin Lackey's big, double striking brother, Warren Instigator. The Double Strike ability practically makies him twice as effective whenever he hits a player. Another great thing about the Instigator is it's ability to kill off small creatures without getting killed himself, which also means that he'll probably stay around for longer (despite attracting more attention than the Lackey).All in all, the Lackey is a great card for a casual goblin deck, which needs to switch it's Raging Goblins out with something a little more dangerous. The price of the card is a bit high, but it's still low enough to be reasonable.
-
April 02, 2008
-- Brendan
Dude it can be great, does you all remember Fire whips.
-
September 13, 2003
-- Anonymous
This Card Is not a good card . If u have it in ur hand 1st turn its ok but what if u dont have amy good goblin card it suck Moggcatcher is better
-
September 05, 2003
-- Anonymous
Goblin lackey is NOT a good card1- it is tough to get direct damage when the game is in full force2- if u dont start with a good hand its crap3- Moggcatcher is the best cause it gets goblin from THE LIBRARY.