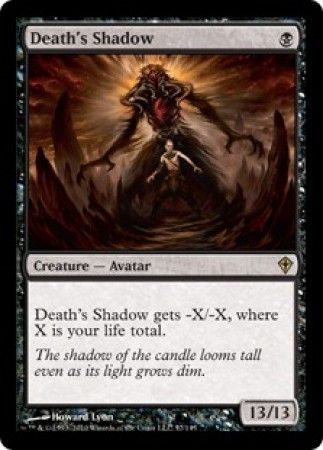 Fulfilled By:
TrollAndToad.Com
| | |
| --- | --- |
| Rarity | Rare |
| Color | Black |
| Casting Cost | |
| Card Text | Death's Shadow gets -X/-X, where X is your life total. |
| Creature Type | Avatar |
| Set | Worldwake |
| Artist | Howard Lyon |
| Flavor Text | The shadow of the candle looms tall even as its light grows dim. |
| Description | Worldwake Single Card |
| Release Date | 2010-02-05 |
| Dimensions | 3.5" H x 2.5" W x 0.012" D |
| Ship Weight | 0.004 pounds |
-
May 11, 2018
-- Jose Danie
Verified Buyer
by the way Bond of Agony wont work unless you pay x with mana and life so no 1st turn agony for you.
broken and full of win turn 1 dark rit then bond of agony pay 13 life then put this into play turn 2 game win lulz put in dead reckoning for further lulz
-
March 31, 2010
-- Garrett
Play it in an B/R Ad Nauseam deck, and it works amazingly well.
-
March 18, 2010
-- aceshigh
...just beggin to be broken...
-
March 12, 2010
-- Anonymous
...and this too will be broken...
-
February 21, 2010
-- Ryan
Great late game card, AWESOME 13 points of damage in the early game with Dead Reckoning.
-
January 24, 2011
-- Jay
I think of Unspeakable Symbol when I look at this... Obviously never drop on T1 but has some serious potential in metagame. This card is great to exile to Sutured Ghoul making it a 13/13 trampler or some other cards like Induce Despair, which care about a creature's P/T outside of the battlefield.
-
March 03, 2010
-- Jens N
Good card. Sure, be a noob and state the obvious - "you can easily destroy it or fly around it", but how about this: I could JUST use Cranial Extraction and name Baneslayer Angel and wipe your deck clean of win conditions. Face it, everything in Magic has an answer! Everything! There's no such thing as an "ultimate way of winning", and I'm tired of people thinking otherwise.Back to the card. Death's Shadow is a great card. Since it grows in power as you fall closer to death, you could compare it to the old cards such as Avatar of Woe and the rest of the cycle. Use Lich effects or perhaps Platinum Angel to keep you alive. Also, a new Building on a Budget deck has just been built around Death's Shadow. Go check it out on magicthegathering.com if you want some inspiration for a deck featuring this card.
-
February 05, 2010
-- mishra yusalef
...good in late game for survival.... hehe this is a one good mamaw creature.....
-
August 13, 2010
-- William
This card has been mostly dismissed for compettitive play because it's a situational card. Which is bad. Yes it might work in EDH or just casual play, but it wont be in a Pro Tour deck any time soon. Also good luck using Cranial Extraction at a standard or extended tournament since you can't. I'm rating this from a compettitive view and it's bad. It's bad in standard, extended, and draft and no one will probably try to break it when we have better things to break like Time Reversal now. Just saying if you want to get into competitive play don't get this.
Fulfilled By:
TrollAndToad.Com