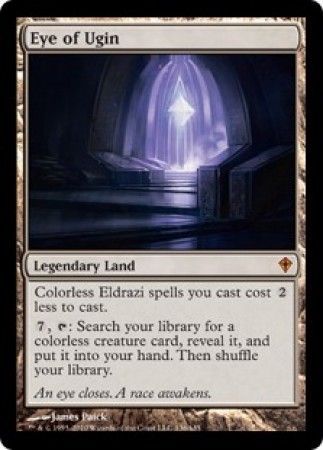 | | |
| --- | --- |
| Rarity | Mythic |
| Color | Artifact |
| Card Text | Colorless Eldrazi spells you cast cost less to cast.,: Search your library for a colorless creature card, reveal it, and put it into your hand. Then shuffle your library. |
| Set | Worldwake |
| Artist | James Paick |
| Flavor Text | An eye closes. A race awakens. |
| Description | Worldwake Single Card |
| Release Date | 2010-02-05 |
| Dimensions | 3.5" H x 2.5" W x 0.012" D |
| Ship Weight | 0.004 pounds |
-
February 05, 2016
-- David
Verified Buyer
ROE has dropped, 5 star card now. there is no debate this is one of the best cards you can put in an eldarazi deck. 4 eldarazi temple's and a couple of these, your talking about paying barely any mana to play your big boys like emrakul, this card with 4 skittering invasions, and more eldarazi spawning creatures, with 4 x eldarazi temple and a couple of these badboys? eldarazi accelleration boys.
-
March 07, 2010
-- Patrick
This will definitely become a pivotal card in the Worldwake set. Have you SEEN Kozilek, Butcher of Truth?!?!? If he's any example, then Rise of the Eldrazi will be awesome!!! This card can get that beast out with 2 less mana, AND can search you deck to find him!!!!!!!!!!!!!
-
September 07, 2010
-- Seasnan
just add 1 or 2 mirror galleries and four of these then any of the uber eldrazi will come out no problem well its what I'm gonna do at least and i need to buy 2 more temples then i will make my nice mean little eldrazi deck
-
June 23, 2010
-- themonsterthatlivesinyourgarage
It seems I get to write the first post-rise review of this card, and boy is this card good it reduces the costs of the eldrazi, which is essential considering the cheapest costs 8 to play. Not only that, but it tutors for them, simply amazing. combined with the cost reducing ability, this has 5 colorless, tap, play target eldrazi from your deck. Unfortunately, you would still have to pay it's mana cost. Aside from that, being legendary is its biggest disadvatage.
Eh... This is very flavorful, but pretty redundant unless you plan to power it up with either Urborg, Tomb of Yawgmoth, Urzatron lands or both.Though I must say this is a BEAST in EDH. Disregard it's lower eldrazi casting cost, unless you are running them; use it for the colorless creature fetch ~~ I.E.: Sundering Titan, Memnarch, Blightsteel Colossus, Mycosynth Golem, Nullstone Gargoyle, Teeka's Dragon, Phyrexian Dreadnought(A little silly, I know, but I have done this to win) etc. etc.Then again you could simply run Mycosynth Lattice to fetch for any creature in your deck :)Bottom Line: 2-3 Star casual card. 5 Star EDH, Prismatic ~~ Formats that require more than a 60 card min
-
March 07, 2010
-- Anthony
These cards drive me insane; you know Wizards has something up their sleeves that will drive the price of Eye of Ugin through the roof. Remember INQUIST had the "Cards to Hold" page? Sometimes a Mage must take a chance on certain cards that will not only be a bargain price at the time, but be the "must have" card at a future time. Ok, I bought a foil from Troll and Toad (Troll and Toad is the ONLY company I buy cards from) as well as a regular playset. I have a "waiting in the weeds" feeling that Eye of Ugin is a set-up card for future set(s) of what is to come. Remember Goyf? I was one of the lucky few who picked up many playsets when the Goyf was cheaper. I don't know about this one, one drawback... Legendary; but again, something is telling me that this card deserves a spot in everyones binder. 3 STARS for it just being presently unknown.
-
March 04, 2010
-- Kenneth
This card is currently, (without Rise of Eldrazi) useless. But I have a feeling this card will become great with the new set. I'm going to try to get a playset now.
Three stars. Probably going to be kick-@** when Rise of the Eldrazi hits, but three stars for releasing a useless land card >.> I did get two in my booster box though xD