5 Random Pokemon Booster Packs (Pokemon)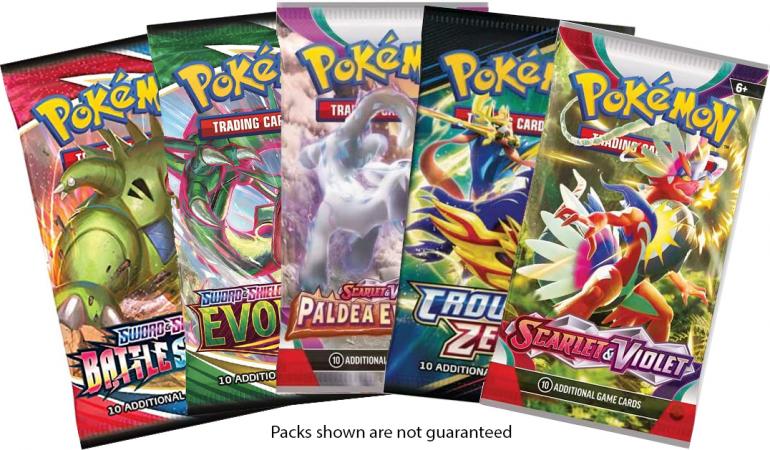 | | |
| --- | --- |
| Description | 5 Random Pokemon Booster Packs (Pokemon) Additional Details: NONE |
| Dimensions | 3.75" H x 2.5" W x 1" D |
| Ship Weight | 0.205 pounds |
-
April 03, 2016
-- G
Verified Buyer
Didnt get anything to crazy, the packs I got are Black and White: Emerging PowersBlack and White: Dragons Exalted Black and White: Noble Victories Diamond and Pearl Platinum
-
October 20, 2011
-- Anonymous
I bought 1 and was kinda annoyed I got 5 Heart Gold Soul Silver packs, but I opened them and got 2 holos and a Lugia Legend top half. Really nice, considering my terrible luck with boosters.
-
September 11, 2011
-- Kayla
This is the second time I have bought this. I again bought two of these so 10 packs altogether. 6 of the 10 packs I pulled holos. This is a great deal and will buy again!
-
October 24, 2016
-- Victor
Verified Buyer
Got 5 XY Fates Collide
I would''ve like a little diversity, but considering the price they are worth it.
-
August 29, 2011
-- Anonymous
I purchased ten packs, and I got decent pulls. I was expecting some EX or older packs, but I pulled a Uxie Level X and four other holos. Pretty good deal.
-
August 25, 2011
-- Anonymous
This is definitely a smart buy. The price itself makes it worth it. You get 5 booster packs for 14 bucks, which is about $3 a pack, so it's a good deal. I bought 2 of them (10 random packs) and pulled 6 holos, an arceus reverse holo, and a rotom reverse holo. That's way above average which was sweet, plus you get other rares, reveres, rare reverse, etc. so it was defintely worth the buy. Only bad thing I can say is that I got 7 Platinum packs, and 3 Diamond and Pearl packs. Wish they put in some older stuff, at least 1 old pack would've been cool, just to add variety.
-
December 29, 2017
-- Michel
Verified Buyer
Got only new pack
I was kinda bummed to see which packs I got.I ordered 2 lots (10 packs) and got 2x Evolutions, 2x Sun and Moon Guardians Rising, 2x Fates Collide and 2x Sun and Moon Base.Was hoping to see some older packs like Soul Silver and Heart Gold.Got some great pulls tho, Mewtwo EX Full Art from Evolutions, Umbreon Full Art from Fates Collide, Nidoking Break, Secret Rare Exeggcutorfrom Evolutions and some Holo/Reverse Holo Rares.Still can''t complain to much for this price.
-
January 22, 2017
-- Sophia
Verified Buyer
Not amazing
I only got the 5 most recent xy packs. Was hoping for more variety. No ultra rares in the 10 packs I received.
-
May 13, 2010
-- Anonymous
The only good thing about this purchase was the price. I pulled no ex, lv x, or star pokemon. The packs I got were: great encounters, rising revival, diamond and pearl, power keepers and a super lame jungle pack. The only good thing was the number of holos in the packs. In the four packs, excluding the jungle pack, i had 7 holos which makes for a good average but only 2 are cool. A reverse holo Porygon-Z and a reverse holo Dusknoir were the two best cards I got. That being said I will probably buy this again just because of its value.
-
May 02, 2010
-- Anonymous
I GOT EX EMERALD, EX FIRE RED AND LEAF GREEN, EX SANDSTORM, EX UNSEEN FORCES, AND A PLATINUM PACK. 20 DOLLAR VALUE FOR $10.i PULLED A CHARIZARD EX, A DIALGA G LV.X AND A POLITOED EX. I WILL DEFINITELY BUY THIS AGAIN!!!!!!!!!!!
-
June 26, 2019
-- Anonymous
Verified Buyer
didnt get any of the pictured packs
got 2 steam siege packs a evolution and 2 others from the XY series. Was confused considering everyone else is getting black and white packs etc. Disappointed.
-
December 09, 2017
-- Bradley
Verified Buyer
Ordered 2-5 randrom booster packs when i received them they were duplicate of each other, containing 1 evolution pack, 2 breakpoint and 2 steamsiege each, kinda dissapointed in this since i was hoping to get something older then xy but whatever
-
January 04, 2018
-- Super Kevin
Would Recommend
These Packs are Legit. I pulled an EX, 3 holos and a secret rare
-
May 27, 2017
-- Mark hobczuk
Got nothing but new packs would rather have older vintage packs
-
September 14, 2011
-- Matt Buckley
I give this random 5 booster pack item a 5 star rating simply because of its value. i got 3 packs so 15 boosters i got 7 holos and 3 Lvl X...in saying that tho i did only receive diamond and pear and platnium cards id love to see some older expansions thrown into the mix also, but still a great buy
-
September 08, 2011
-- Kayla McDurfee
I bought 10 packs so 2 of these and I got a lvl X and two holos I believe. Not bad, although I wish I had gotten some older packs. I got some D&P and Platinum packs. It's a great deal and already bought 10 more :)
-
August 26, 2011
-- Kyle
Great selection at a great price, Packs came well packed and within a week. I received a Diamond and Pearl Legends Awakened, a Diamond and Pearl, Platinum Rising Rivals, Platinum Supreme Victors, and a Platinum Arceus. Pulls were nice not horrible and a bit above average.

My only complaint is i didn't buy more :(
-
November 19, 2010
-- Alex
Bought 1 of these and got; EX Power Keepers, EX Crystal Guardians, D&P Secret Wonders, D&P Mysterious Treasures and a HeartgoldSoulsilver. And we pulled a Shiftry ex and a holo Ludicolo. So overall brillant. Get more of these deals!
-
October 18, 2010
-- Anonymous
EXtremely cheap, good cards whats not to like
-
October 11, 2010
-- Jan Jelonek
I get it today and I had Unseen Forces, Holon Phantoms, Delda Species, Diamond & Pearl and HS Unleashed.
Unleashed pulls - Reverse holo Rare Candy and Raikou & Suicune Legend (Top)
Another plus is the price!
I will buy this again!!
-
September 18, 2010
-- PokemonCollector24
got a Charizard gold star and a jolteon gold star for $9.99, absolute bargain! will definitely be buying again!
-
August 09, 2010
-- Anonymous
awesome! ordered three of theese deals, 15 packs. and i got a ex and two lv x's! 5/5
-
March 27, 2010
-- Anonymous
Great deal! 5 packs for this price, you can't beat that.
-
December 15, 2017
-- Ryan
Verified Buyer
Awesome but..
I got 7 of these. Really great price.. but every single one had evolutions,sun and moon, steam siege, fates collide and sun and moon. Same order. Great deal.. but didnt feel random. Didnt get any old school packs or semi old school. Maybe next time.:)
-
February 23, 2012
-- Anonymous
I bought 4 lots of these and was very happy, 2 level X's, 2 ex's and a gold star from 20 packs, really amazing.
-
June 02, 2018
-- Okemos160
Thought it would be better but still a bargain at 3 a pack!
I opted to purchase this lot over the three pack lot based on prior reviews stating they received some older packs. I was rather disappointed to find out they were all sun and moon and xy. I purchased two sets (10 packs) and pulled 1 ex, 1 holo, and 3 reverse holo. I would've given a 5 star rating if I would've got at least 1 pack black and white or older. Still a great bargain for the price and will try my luck at two more. My coworker bought two sets as well so hopefully his are better.
-
December 27, 2017
-- Anonymous
Not so random
I ordered 10 sets of 5 "random" packs. All 10 sets of 5 had the exact same 5 packs. Random seems a bit misleading. Still a good price for 5 packs.
-
April 25, 2017
-- Morten
Little disappointed
Got a BreakPoint fates collide Evolutions Primal Clash and Roaring skies
-
May 06, 2020
-- Chris
Verified Buyer
Bought ten packs pulled 6 ultra rares out of all of them.
I didn''t get any really cool packs. But the packs I did get I got really good pulls from them.
-
January 09, 2017
-- Mouse
Verified Buyer
Good Buy For Unweighted Packs
Seeing other posts I was hoping for some older packs I received the most recent packs in the XY series: Evolutions, Steam Siege, Fates Collide, BREAKThrough, BREAKPoint. Out of 33 packs:x9 EX (1 Full Art, 2 Mega)x5 Holosx1 Breakx26 Reverse HolosWould buy again
-
December 06, 2020
-- G-Money
Verified Buyer
Good for Value
got 2 orders of 5 packs. A few SM base sets, a few rebel clash, 1 evolutions, 1 cos eclipse. No undesirable packs like Breakthough/point.

Pulls were not great unfortunately, but not terrible. 1 full art trainer, 1 V card, 1 evolutions holo, and 2 more holos.
-
November 15, 2016
-- Austin
Verified Buyer
I bought 1 set of these (5 boosters). Didn''t get incredible pulls. Got 2 holos (White Kyurem, Yveltal) and a Marowak BREAK. I got 2 fates collide. 2 BREAKthrough and a BREAKpoint. Would love to see some more booster packs thrown in the mix from older generations. Only issue was that the packaging was a bit weird and the tape on the booster pack made it issue to open up.