M Gengar EX - 35/119 - Ultra Rare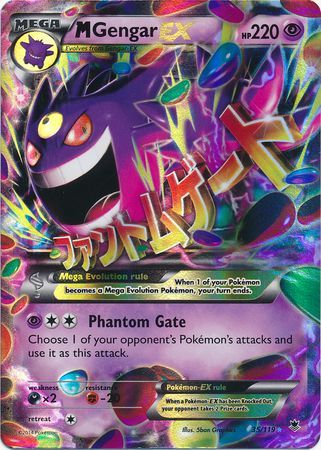 Condition:
Near Mint English Pokemon Card
Fulfilled By:
TrollAndToad.Com
Rarity
Rare Holo EX
Card Type
Pokémon - MEGA
Card Text
When 1 of your Pokémon becomes a Mega Evolution Pokémon, your turn ends.
Type
Psychic
Hit Points
220
Weakness

×2
Resistance

-20
Retreat Cost
1
Attack1

Phantom Gate - Choose 1 of your opponent's Pokémon's attacks and use it as this attack.
Set
Phantom Forces
Artist
5ban Graphics
Description
Master Mysterious Powers! Explore this haunted XY expansion full of ghostly Pokémon! Can you discover Mega Manectric-EX, Mega Gengar-EX, and Aegislash-EX? Excel even further with Mega Evolutions when you add in Sprit Link cards. Do you have the knowledge to tame the spirits?

XY: Phantom Forces was the 62nd expansion of the Pokémon TCG. It was released in November of 2014 and consisted of 122* cards total. Noteworthy cards from XY: Phantom Forces include Aegislash EX, Florges EX, M Gengar EX & M Manectric EX.
Dimensions
3.5" H x 2.5" W x 0.012" D
Ship Weight
0.004 pounds
-
December 01, 2014
-- Igor Costa
Terrible Price
The price of this card just keeps going up!
-
November 13, 2016
-- Anonymous
Condition:
Near Mint English Pokemon Card
Fulfilled By:
TrollAndToad.Com