VS Seeker - 109/119 - Uncommon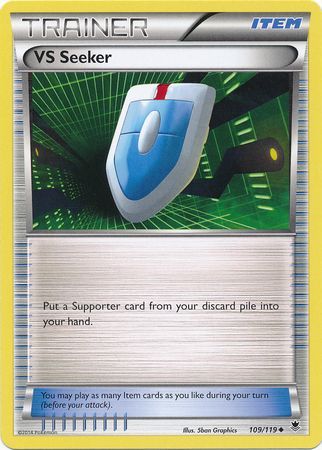 Condition:
Near Mint English Pokemon Card
EVO Merchant:
Tree Otter Gaming
Fulfilled By:
TrollAndToad.Com
Rarity
Uncommon
Card Type
Trainer - Item
Set
Phantom Forces
Artist
5ban Graphics
Description
Master Mysterious Powers! Explore this haunted XY expansion full of ghostly Pokémon! Can you discover Mega Manectric-EX, Mega Gengar-EX, and Aegislash-EX? Excel even further with Mega Evolutions when you add in Sprit Link cards. Do you have the knowledge to tame the spirits?

XY: Phantom Forces was the 62nd expansion of the Pokémon TCG. It was released in November of 2014 and consisted of 122* cards total. Noteworthy cards from XY: Phantom Forces include Aegislash EX, Florges EX, M Gengar EX & M Manectric EX.
Dimensions
3.5" H x 2.5" W x 0.012" D
Ship Weight
0.004 pounds
-
October 31, 2015
-- Lysandre
I should prob make a review
Seeing as how both reviews here are utter trash, I should probably make one and as to why it is pretty much necessary to run 3-4 in your decks. Running more of these means running smaller amounts of supporters "Such as running 1-2 Lysandre over 3" It can also be paired with Battle Compressor (XY4 92/119) to get what you need if you have the cards in hand. The only deck usually doesn''t run any Vs seeker is Vileplume (XY7 3/98), this card has saved me more games than I can count paired with Lysandre. Use it to grab Lysandre out of the discard pile late game to bring up and from your opponent''s bench, and kill it for game.
-
June 19, 2016
-- Leo
Verified Buyer
A MUST HAVE!
probably the most meta card at the moment, this and battle compressor is like a match made in heaven, definitely run at least 2 on each of your decks.
-
August 06, 2015
-- YOLO
-
April 16, 2015
-- Jon D
Best Card Ever
So the other day I was thinking to myself "hey, you know what would be great?? A card that could bring a supporter out of the discard into your hand for use!" and then I came across this card and loved it! 10 out of 10!! I run 8 in all my decks, these with Bills and Professor Oaks and the opponents just scoop. Would recommend to a friend.
-
January 28, 2017
-- Andrew
Verified Buyer
You want 4 of these.
Running more of these gives you the ability to run fewer supporters. A VS Seeker in your hand can immediately become any supporter in your discard pile. Also makes discarding certain supporters with things like Ultra Ball or Computer Search in expanded much less painful knowing you can VS Seeker them back. The only time you wouldn''t use this card is in a Vileplume deck.
Condition:
Near Mint English Pokemon Card
EVO Merchant:
Tree Otter Gaming
Fulfilled By:
TrollAndToad.Com