Random Foil Magic the Gathering Cards (No Un Set Cards)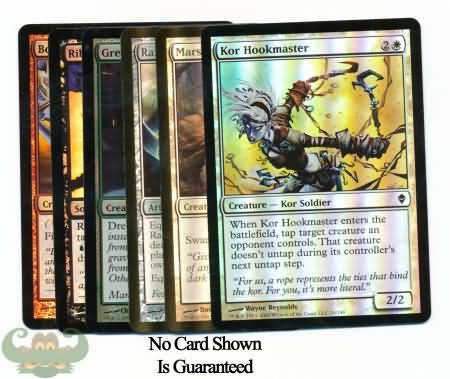 Rarity
Random Single
Description
Please note: This random single card is NOT included in our special '99 cards or less for .99 cents' shipping promotion.

---

This fantastic wealth of cards comes from our gigantic vault of overstock cards. These cards can be from the same set, they can be duplicates (Read: expect duplicates), they can be any rarity (but 99.9% of the time they will be common or uncommon). Remember - we are using our overstock to generate this infinite pile of cards. Two things we can guarantee is that these cards will be fantastically cheap, and they will all be Foil Magic: The Gathering cards! Check out the reviews for this product to see what previous customers have thought of the cheapest cards in the retail world!
Dimensions
3.5" H x 2.5" W x 0.08" D
Ship Weight
0.004 pounds
-
June 03, 2014
-- I Navarrete
Ten cards, all differents, i'm happy with this buy
-
September 29, 2012
-- matt simmons
Wonderful purchase. I bought 150 foils to add to my collection. I requested low duplication and am very pleased. There was a couple duplicates and also a couple three of one, but very low all together. There was also around twenty uncommons & four promos. Great selection of different sets also. I will definitely be buying more. Thanks T&T
I bought 100 of these and requested as little duplication as possible. My lot ended up having only 3 duplicate cards with only 2 of each. Most cards were in very good condition and there were 22 uncommons.
-
April 08, 2010
-- Red Ravager
Best Deal Ever ! Think about it >>> you have 40 Foils for a booster price !!! And foils are not easy to find (1/63 cards i think) Thanks Troll and Toad !
-
September 25, 2009
-- kyle weber
I ordered 50 and received a great variety of cards. The cards were mostly commons (of course) but I did receive a handful of uncommons and 2 rares. All cards were in near-mint condition; I'll definitely be buying more. 5 Stars all around!
-
September 19, 2008
-- Danny D
I ordered 50 rares, and 50 foils, and this is the foil review. Its no gimmick, it isn't all one card, its a good assortment. But it WILL be somewhat fixed. My 50 foils were mostly all red, and mostly from more recent sets, from Betrayers to Morningtide. The remaining cards were a few artifacts from Fifth Dawn, and 7 hoil Mountains from Masques with the SAME EXACT ART. It made me laugh.But if like to fill your foil book, this is the deal for you! And remember, there will be NO hoil rares, because there is a seperate deal for that.
I love foil cards, and this was an awesome deal. I bought 100, and got some great ones. Most were uncommons and in great condition. Will definitely buy again. Thanks TrollandToad!!
-
April 06, 2009
-- Emanuel Ferrao
I am extremely happy with the foils I got. Considering I live in South Africa, I got my cards in three and a half weeks. I was surprised when i opened up my package and saw no land cards (I'm not complaining at all) which was a bonus, but I was a little disappointed when I saw not even one rare. Hey one cant ask for every thing. Thanx Trollandtoad you guys ROCK. Will be ordering again soon.
-
March 02, 2009
-- Craig Harris
Not bad although i got 13 foil basic lands that's still a pretty good deal for foil lands ten cents ehh... not bad then just some random foil commons. all in all 20 cards for 2 dollars yeah i enjoyed it :)
-
September 15, 2009
-- Jason M
Bought 50 cards. Received no doubles. All cards were common or uncommon. From sets put out between 1999 and 2005. No new stuff. Good deal.
-
August 23, 2009
-- Anonymous
I thought this might be a fun way to increase my foil collection. I ordered fifty cards, and received just a few doubles. The doubles came in handy though. I received a mix of common and uncommon cards, and received one foreign card (fortunately I know a little Spanish:-).The cards are slightly played. Some foreign cards may be present. Take Assorted to mean just that. But, if you are looking for a fun and easy way to add some foil cards to your collection this is not too bad.Out of the cards received I am pleased for the price paid. I will probably make another purchase.
Too many duplicates
I expected duplicates, but 3 and 4 each of most cards a little too much.