Random Magic the Gathering Rares (Gold Symbol Only) (No Un Set or Timeshifted Cards)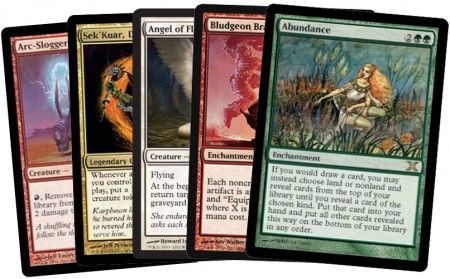 Condition:
Near Mint English Magic Card
Fulfilled By:
TrollAndToad.Com
Sell to Us $0.09
*
* The 'Sell to Us' price may reflect an added website credit bonus. Other buy list payment methods will not include this.
Rarity
Random Single
Description
Please note: This random single card is NOT included in our special "99 cards or less for .99 cents" shipping promotion.

---

That''s right! Troll and Toad brings this great deal to you our valued customers as a way to fill in your collection, build trade fodder, or have massive piles of rares to work their way into your decks. Being that these rares are cheap and from our overstock, we can make no guarantees, other than you will get the cheapest rares available online. You may get lots of duplicates, you may receive rares from the same set, you may receive the worst rares imaginable. However, they will be the cheapest rares online! Sets without rares - that go off of the U1 system - will have their rares (U1''s) to represent their set. Also included randomly will purple time-shifted cards. Rares could be from any set and of any type. Build your collection the fastest way possible!
Dimensions
3.5" H x 2.5" W x 0" D
Ship Weight
0.004 pounds
Great buy. cheap rares means you're not going to get anything spectacular, but its great for casual players.
-
May 18, 2014
-- Jarad Baldwin
This was the first time ordering a random selection of rares and I was very pleased with the 23 cards chosen. I received my first two dragons, an awesome wurm, and other artifact cards that boosted my collection. Only 2/23 cards I already owned but they were from the 2013-2014 release. I highly recommend this product!
-
May 13, 2011
-- Oskar Strom
No duplicates, in mint condition, and from 6 different sets plus I only ordered ten! Definitely worth more that what I paid!
-
December 10, 2020
-- LastGreatKnight
Verified Buyer
Ordered 120
Out of 120 cards, 107 were unique, and I did not receive more than a playset of anything. Most cards are the lower end of rare values (obviously), but I was happy with a few that will work well in my decks. Too bad it is .20 each now instead of .15 like the past.Overall, for random overstock rares, this was a good buy. I have another on order, and will review that one also.List: 1 Grim Backwoods 1 Moorland Haunt 1 Aether Snap 1 Akoum Hellkite 2 Aligned Hedron Network 1 Ancient Craving 1 Anguished Unmaking 1 Argentum Armor 1 Armistice 2 Assault Formation 1 Atarka, World Render 1 Aven Mimeomancer 1 Cackling Counterpart 1 Cathars' Crusade 1 Celestial Ancient 1 Celestial Archon 1 Cleansing Nova 1 Collective Blessing 1 Coveted Prize 1 Cragplate Baloth 1 Creeping Renaissance 1 Curse of Echoes 1 Daxos's Torment 1 Day of the Dragons 1 Death Grasp 1 Demonic Embrace 3 Den Protector 1 Dictate of Heliod 1 Divinity of Pride 1 Doomwake Giant 1 Drowner of Hope 2 Ember Swallower 1 Fate Unraveler 1 Fateful Showdown 1 Fevered Visions 1 Fiend of the Shadows 1 Fraying Omnipotence 1 Geier Reach Bandit 1 Gild 1 Glory of Warfare 1 Goblin Charbelcher 1 Goblin Dark-Dwellers 1 Grindclock 1 Growing Ranks 1 Gustcloak Savior 2 Hallowed Moonlight 1 Hedron Matrix 1 Hellrider 1 Increasing Devotion 1 Inscription of Ruin 1 Jareth, Leonine Titan 1 Kolaghan, the Storm's Fury 1 Labyrinth Raptor 2 Lantern Scout 1 Lavabrink Venturer 1 Loaming Shaman 1 Magmaquake 1 Markov Dreadknight 1 Marshal's Anthem 1 Mobilization 1 Myriad Construct 1 Mythos of Brokkos 1 Nissa's Renewal 1 Nomads' Assembly 2 Noyan Dar, Roil Shaper 1 Ojutai, Soul of Winter 1 Order of Succession 1 Pir's Whim 1 Plea for Guidance 1 Predatory Advantage 1 Providence 1 Reki, the History of Kamigawa 1 Repentant Vampire 1 Requiem Angel 2 Rubblehulk 1 Ruinous Path 1 Sacred Mesa 1 Sage of Ancient Lore 1 Scourge Wolf 2 Scytheclaw 1 Shalai, Voice of Plenty 1 Silent Gravestone 1 Silumgar, the Drifting Death 1 Soul Separator 1 Spikeshot Elder 1 Squad Commander 1 Stitcher's Graft 1 Storm Herd 1 Strata Scythe 1 Surrak, the Hunt Caller 1 Sword of Vengeance 1 Taranika, Akroan Veteran 1 Tectonic Reformation 3 Thalia's Lancers 1 Thelonite Hermit 1 Thriss, Nantuko Primus 1 Twilight Shepherd 1 Tymaret, the Murder King 2 Tyrant of Valakut 1 Ulvenwald Observer 1 Umori, the Collector 1 Vizier of Many Faces 1 Wasteland Strangler 1 Welcome to the Fold 1 Whirlwind 1 Yasova Dragonclaw 1 Yukora, the Prisoner
-
October 26, 2017
-- Joe
Verified Buyer
A nice selection
Ordered 50 and got cards from Magic 2013 up to Eldritch Moon. A pretty good selection. Lots of duplicates (but that''s okay for the most part). Did get 6 of one card and 7 of another.Solid.
-
July 26, 2015
-- jeff
Verified Buyer
Nice
Ordered 150 decent mix but got 31 foreign...they replaced the foreign very generously..very happy A+
-
February 16, 2015
-- Merlot Masters
Verified Buyer
Awesome
Absolutely wonderful. I ordered 100 of these along with some friends, and we were very pleased with what we got. There was a wide variety--the sets ranged from Unlimited all the way up to RTR--and we didn't receive even a single double. There weren't any big money cards, but for 15 cents, you really can't complain about getting things hovering around the 1-5 dollar range. Definitely a fun way to spice up my collection; I will most certainly be ordering these again.
Awesome! Just Awesome! I ordered 200@15¢ (and got a few extra) for the purpose of game prizes and building some new commander decks with friends. Got a lot of decent cards for an amazing price! With quite a few legends included, we built commander decks of nothing but rares by picking one of the many available. Our commander decks have never seen such a level! These are great for starting a theme in a deck, and we even got a laugh out of the old rares and the M:TG of today's power ramp in recent sets! Next up? Purchasing 500 cards on special @13¢!!! This makes game night WAY more fun & interesting to play! Thanks a lot, T&T!
-
May 01, 2011
-- Lequinian
Ordered 500 cards. Obviously not top tourny cards, but great mix, wide variety, and perfect for reject draft or social group play. Breakdown for those ordering: 10 Halo Hunters, 7 Goblin Warrens, 2 foreign (1 Legands dragon), 4 unplayable, 1 unglued, 90 artifacts. At the price, great deal.
-
April 23, 2011
-- Allister
Amazing deal! I ordered 100 cards and got mostly current cards. I got several elemental appeal's, lavaball traps, angelic arbiters, and hellkite charger to name a few. I did get 15 phytohydra though. At least it's an awesome creature. I also got 5 knight captain of eos. Every other card I got was either a one of or a playset.
-
April 21, 2011
-- Rachael
Great value! I ordered 15 all are in great condition and I am very pleased with what I received. I will definitely be ordering more.
-
January 03, 2011
-- J.R. Hunter
great bargain, I was very happy with the 10 I got
-
March 16, 2010
-- Kenneth Blaylock
I was pleasantly surprised at the quality of the cards, having ordered 15. Got things like Time Stop, Petradon, Blazing Shoal, Radiate, and other quirky and fun "nice" cards that I'm tempted to begin building a deck or three around.
-
October 03, 2009
-- Cold One
AMAZING...I got no duplicates and the sets varied quite a bit, I got a 6/6 unblockable.....that alone is worth how much I paid. I'll be buying again real soon.
-
October 02, 2009
-- Kyle Weber
I love this listing! I've bought a few hundred of these random rares so far and I'm extremely happy with my purchases. You're not going to find extremely valuable cards in here, but you will receive your money's worth. Every time I order something from TrollandToad I always get an additional 40-90 random rares to spice up my shipment. You won't be disappointed.
-
September 01, 2009
-- Josh
Thank you Troll and Toad! I ordered 100 cards and in the notes space in my order, I told them I'm a fan of the older cards; would gladly accept any old cards they wanted to offload on me. They not only listened, I didn't receive a single duplicate! Not one! Even better, all of these cards are cards I needed for my collection. I got one rare from Dissention, which is fine. The 99 others were from the Tempest/Weatherlight block and before. I got a ton of revised, fourth and a nice smattering of others between revised and weatherlight. The cards were mostly in excellent condition, a few were a little beat up but for .15 cents... Best deal on the internet!! There were some surprisingly rare cards in here too.To the staff who reads comments and then follows through with them, THANK YOU!!! This is what sets you apart from everybody else on the internet. If I knew who you were, I'd buy you a drink just for helping me out like that.Keep up the great work! I'll be ordering more ASAP.
-
July 24, 2009
-- timothy horgan
i love this offer. i ordered 250 last time only got 3 duplicites of cards and a whide variety of cards that were great for multiplayer format which is all i play. thank you TnT and i will be sure to order this again!
I was absolutly blown away with my 100 rares, I did receive a handful of cards that I would never admit to being rare such as goblin hero, and mon's goblin raiders, but the shear mass of playable T2 cards blew my mind, I even got a mythic rare. Received a fair mix of all colors and through a broad range of sets. I definitly recommend this purchase to anyone, but especially for those that took a break from magic for a few sets (like me) and want to get a hold of a few cards from the sets you missed.
-
May 29, 2009
-- maria jose varas
I ordered 200 rares, twice. the first time I received almost exclusively rares from the ice age set and this was awesome(to me), because they where in nm condition and I'm just a Casual fun player. so the cards where used for drafting and it was nice. the second order was great too, I even get some type 2 cards and it was very funny. obviously there are a lot of duuplicates, but it's ok. for that price... I've gotten worse.
-
April 09, 2009
-- J-F Verreault
I think this offer is a great opportunity to get a lot of good rares at a very low price. We alway's need some technical card's from current or old set's to balance our strategie's and this is the deal for it. I take it like a kind of lottery; when a call a deal from it, I'll together waiting my card's with curiosity. You can get card as old then unlimited with this! Take a chance and test your luck! Friendly, Jeffreo
-
March 21, 2009
-- cashflow1212
Ordered 140 cards got a good mix of sets. Didn't get much green but got a decent amount of artifacts and other colors. Ended up with like 30 cards i'm really happy with, like 50 cards that are alright, and the rest are just random cards i'll never use. I think the most duplicates i got was like 4 or 5 of one or two cards. Most the cards were in good condition. I recommend this item for .15 a rare its a good bargain and fun.
-
February 17, 2009
-- Ian
I can't give less than 5 stars at that price. However I am upset that they gave out Time Spiral reprints as rares, since most of those reprints are commons/uncommons. There are duplicates but that I am fine with. I really liked the assortment. Fills my rare binder with stuff I would never have paid full price for. Now I order 5-10 of these every time I order singles to try my luck. Ordering 100 seem to have a lot of duplicates and only span 4-5 sets.
-
November 29, 2008
-- J-F Verreault
It's a good opportunity to make a deal with the luck of your day. You will get a couple of valued card's and some others will serve to mark the page of your fantasy book's. This is a challenge for the true collectionnor ! In a lot of 90' rare's, I get 10 great utility card's, 20 useful one's and 30 middle range card's. The rest is a gift for your young brother.. It's better then lotto! Who did'nt risk anything will never get anything..Try it!
-
September 07, 2008
-- Anonymous
I got a bunch of nice cards. Urza's Armor was nice to add to my little artifact deck. A few nice other artifact rares, and several really nice others. I was hoping for some merfolk, but honestly, I didn't expect to get any.Ive ordered 20 rares 3 times now. The first time, the rares were nice, nothing outstanding, but nice to have. Some worked well in trade bait.The second time was great, several really nice rares. I actually wanted some from the kamigawa block, and got none, which actually made me laugh a bit.The third time I got 10 rares and 10 uncommons, and sent them a message about it. They mailed me another 20 rares, some of which were very nice. I did score 2 pestilence, which a friend needed for their deck, so it all turned out well.Great deal, and you occasionally get some very nice rares.
-
August 13, 2008
-- Beef Wellington
now if you're looking for random cards to use in casual decks, this is just awesome. I picked up 300 of these rares and although I got one unhinged rare, which I probably will never use, I still got 299 other rares. I think this lot is great mainly because you do end up getting play sets, 4 cards, of some of the rares. All in all, I think it's pretty worth it and well, if you don't like some of the rares, you can always try selling them to your friends for 20 cents.
-
July 12, 2008
-- Liam Nixon
An excellent deal. I ordered 50 and got only one duplicate and two rare lands. There was quite a variety - a rare of every card type and every colour - and several of them would be worth $10+ at a gaming shop. Would buy again, definitely. Shipped quickly too! Thanks Troll and Toad!
I ordered a few of these w/no duplicates, got some really nice cards from newer and older decks. Thanks Trollandtoad.
-
January 02, 2008
-- Anonymous
I ordered 60 random rares to use in a rare reject draft. I'm very pleased with the assortment that I received (no duplicates) and was surprised by some of the rares that were included. I highly recommend this if you are looking for ideas, drafting or just some plain old fun
-
September 21, 2007
-- Kei
Got some great rares and was really surprised that most of the rares came from the older sets and were in great condition, with a lot of variety. My only complaint is that one of the cards I got was an uncommon, but it came from a really old set, so no biggie. (I got 100 so 1 out of 100 is not bad). Get deal, will definitely buy again. :)
-
September 10, 2007
-- David
This is a great deal! The shipping was relatively fast and i got a good variety (a little heavy on white) This was a great deal for me because I just got into magic and this helped me get more of a variety for trading and allowed me to get some card of my own from older sets that came out before I started. Five stars, for a cheap, quick, quality product
-
September 02, 2007
-- Aquablood
I ordered 50 and got quite a good selection! No more than 4 of each and no basic lands. Everything was in good/great condition. A wide variety of sets as well! I will be ordering more after my next paycheck! Also got 2 hard protectors! AWESOME!!
-
March 03, 2011
-- Brant
So I'm fresh from opening my order, it's still on the floor peeking back up at me. I thought I'd give it a full and wild sample and went with 180 rares, and 10 mythic rares. - technically - this is a review for the rares, so I'll keep it to those, though I will say one mythic was in the rares I got.Having left magic around 9th edition and coming back in time for Scars of Mirrodin, I was really looking forward to a random collection of cards from sets I missed out on. The package I got certainly didn't disappoint! Featuring cards from sets I don't even know the name to, and will have to look up later. I purchased this fully bearing in mind that "you get what you pay for", and I'm not sure it's such a good thing to buy these in bulk. On the plus side, I got 3-4 copies of a lot of cards, which is fantastic if I build around any of them. Some though, tend to pop up more than you would like...My worse offenders were Covenant of Minds at 10, Mindlock Orb at 13, and Knight Captain of Eos at a whopping 28. Should you find yourself in such a situation, just keep in mind it was .33 cent a pop, and even my cheap card store 8 yrs ago sold junk rares for 2 bucks each.What really made the purchase worthwhile was suddenly seeing a patch of white-borders, and being treated to some awesome 9th edition cards. Mill, Temporal Adept, Utopia tree!? All win to me. So if you're a casual or old-timer looking for a walk down memory lane, this is definitely for you. If you're looking for the powerhouse cards and a wide selection, keep to buying select.
-
September 12, 2010
-- Bryan S.
I was happier with this lot than most. I recieved 2 duplicates out of 10 cards with a nice variety
-
August 09, 2010
-- kabumaru
Got 50 almost all were different i think i got x2 of 3 cards and thats it! overall rares were meh but still worth about as much as i paid for them. 4 forign cards no biggy. most of the cards are from sets getting shuffled out and a few are crap rares from worldwake favorite card i got was Delusions of mediocrity which will be fun.
-
March 16, 2010
-- Kenneth Blaylock
Bought another 15, and got some decent stuff - Another Time Stop, which I needed. Some really wacky, odd cards like Knucklebone Witch and The Unspeakable. Got a Guardian Seraph, Evacuation, March of the Machines, and a Voidstone Gargoyle. All in all well, well worth it.
-
August 18, 2009
-- Matt
Recently ordered 80 rares. Solid mix from 26 different sets. No more than 4 of any one card. Did get 4 of one card, and 3 of two others, but everything else was limited to 1 or 2. Out of the 80, 33 were blue, 23 were red, and 24 were artifacts or multi-colored cards. A little disappointed that no green, black, or white rares were included, but certainly not a deal-breaker. For 15 cents a rare, it doesn't get any better than this. Will be buying more soon.
-
April 10, 2009
-- Alec Phillips
i bought 500 rares, and when i placed my order, i said no more of 4 of any card, and no foreign rares. obviously, after reading some of the previous reviews, i figured i would still get some duplicates... and i sure did. i think there were at least 2, if not 3 different cards where i had over 10+ duplicates. there were probably 15-20 different cards where i had 6+ duplicates. but the rest of the cards were actually pretty fantastic. lots of variety, artifacts, and all the colors were included. the variety & quality will not disappoint. some of the cards were in "played" condition (a few bends) but i am not concerned with that. i ordered these rares to round out my collection, as i had purchased a lot of commons/uncommons somewhat recently. overall, it was a worthy purchase. at 0.15 per rare, it's impossible to beat, even if there are many duplicates.
-
March 21, 2009
-- Damiun.
This is a solid deal. an unbeatable price. I got 100 and was very pleased. The only thing that keeps this from being a 5star deal is its not ALL RARES. They call timeshifted cards rares even though they arent. I got 3 timeshifted uncommons, 1 timeshifted common. Otherwise its a solid deal. WARNING: You can get ante cards (I got 10 total ante cards) 87% sucess rate, 13% fail rate.Will be buying again soon.
-
March 02, 2009
-- Craig Harris
15 cent rares you cant expect much but still a good deal. I got 44 rares and 6 uncommons two of which were the soltari priest and the other 4 just plain old uncommons. Got 4 cards where i got 5 of each of them and 1 card that i got 9 of but other then that still a good deal got a playset of time warps.
-
January 09, 2009
-- Anonymous
i got 4 of the same common and 5 in a foreign language but besides that i got many very good rares that payed for the cost many times over. The most duplicates i had for one card was 7 and most cards didn't have more then 3 duplicates. I would recommend this to anyone who plays magic.
-
October 03, 2008
-- reagan
Yeah, i bought thirty rares and got ALOT of masques, and one in some foreign language, but i got alot of black wich made me very happy :)
-
August 05, 2008
-- Kyle
Not bad for the price I got alot of playsets and some good cards. I got 100 rares and 1 uncommon. I got 5 last stands one being japanese which is kinda cool
-
December 28, 2007
-- Luke
First time I ordered 20 or so, and didn't get anything really exciting. Next time I ordered 10 and got some awesome rares. Hit and miss, but its a good way to build your rare book.
-
November 29, 2007
-- Nicholas
Honestly, not a bad deal. I ordered 50 and I can give you an entire rundown of what I got. I won't but I will tell you I got 9 Urza's Guilt...Karn's Touch, Abyssal Horror, Endless Whispers, even a Fungal Shambler. I know those few aren't great, but they are still really nice to have sitting around.
-
September 05, 2007
-- Anonymous
THIS IS GREAT!!! so cheap than you could really build your house with rare cards !! it may be the poorest rare, you can still build your house :D since i do not want to build my house with rare cards i am not going to buy some right now but maybe when i'll order other cards...
-
August 10, 2007
-- Zach
Ordered 150 rares, actually got a few extra cards (non-rares).Since this is a way for T&T to unload a lot of extra rares, expect duplicates. Lots and lots of duplicates, and lots and lots of cards from less popular sets. Nearly every card I got was from the Kamigawa block, and I got 38 of one card, 20 of two others, and 10 of a few more. That's the only thing keeping this from being a five-star deal, though, because at .18 you can hardly complain. The non duplicates I got made this deal more than worth it, and the duplicates will make nice gifts to friends in need if nothing else. Some of these rares date back to Revised, and there are some very powerful cards which can make a casual deck dangerous.
-
December 27, 2014
-- Brent
So so
I ordered over 400 hoping for some variety, but got as many as 12 of the same card.
-
October 12, 2011
-- Will
Pros: To start off with, there was a great mix of cards old and new, and some very good, better than I'd have expected. Some of the cards were ones I'd never heard of, and all were in excellent condition. Only one foreign card slipped into the bunch, but that was alright since the cards totaled to 101, instead of the hundred I ordered.Cons: 34 Terra Eternal cards. So a third of the cards were effectively worthless. Given the price, duplication was inevitable, but this many of one single card is a bit of a letdown. If it had been a remotely useful card, I wouldn't feel as bad, but it's a pretty limited card overall, and not one I'd ever need more than one or two of in a deck.Would I order again? Considering the price, it was still a decent deal overall, and I'd say I might order again, though in a smaller lot, so it would be harder to have as much of the quantity duplicated.
Ordered 1 lot of 40 random rares and the distribution was goodordered a lot of 100 and i am greatly disapointed, i expected duplication but not like this, out of 100 cards i only got 8-10 actuall unique cards, got 26 Channel (more then 1/4 of my 100) and 20 Kudzu 15 sorceress queen and 10 hells cartakers,I dont mind getting 6-10 of a card but 26? seriously?It is good for the price but not a 5 star product
-
June 11, 2009
-- Anonymous
I ordered 50 cards, and had a lot of duplicates. Out of the 50 cards I had ordered, I had 8 different cards. The most that I had was 10 duplicates. Nothing amazing, but at $.15 a piece, it's a good way to build trade cards.
-
August 16, 2008
-- Ronin
i only ordered 30. So don't swing on me here.But...I got uncommons. A little more than half uncommons, actually.They were from Ice Age.Now I'm not complaining here. It's not a bad deal.I'm just a little shaken.
-
August 16, 2007
-- Anonymous
I ordered 55 cards. They were all older artifacts with many duplicates. I recieved about 18 different cards. The cards were mediocre at best, but the price is solid.
-
June 06, 2011
-- Cartridge
Out of 50 (6 Fight of Flight, 15 Metathran Aerostat, 19 Breaking Waves) Cheap cards, but that's a crazy crazy amount of duplicates.
-
December 12, 2008
-- Jake Myler
I ordered 90 cards to see if it would be worth ordering more. I received several uncommons and duplicates...I wasn't expecting much but I was still disappointed. The cards were a good selection from different sets. I will probably only be using a couple of the cards I received. This is a good way to beef up your collection but if you are looking for good cards you are much better off just ordering them individually.
-
March 18, 2015
-- ron D
oy
purchased 500 rares - and of those more than 100 were FOREIGN. if i wanted the foreign rares, i would have purchased the foreign rares : (
Skip it
Great price, nothing to see here, I ordered thirty, twenty were foreign language cards, if the ten I could read three were duplicates. Yea they warn you, and now I am to. Pass on this
I'm quite decieved. I've ordered 150 cards and 54 cards among those 150 were the SAME CARD ! I don't call it "random" ...
Condition:
Near Mint English Magic Card
Fulfilled By:
TrollAndToad.Com
Sell to Us $0.09
*
* The 'Sell to Us' price may reflect an added website credit bonus. Other buy list payment methods will not include this.