25 Assorted Magic the Gathering Rares (MTG)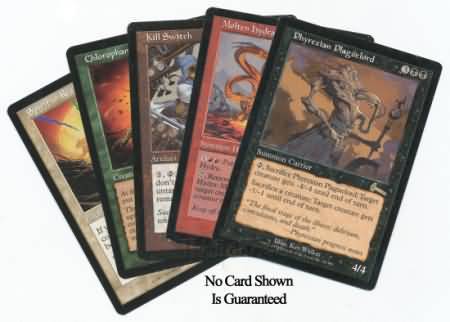 Condition:
Assorted Lot Of Magic The Gathering Cards
Fulfilled By:
TrollAndToad.Com
| | |
| --- | --- |
| Rarity | Card Lot |
| Description | 25 Assorted Magic the Gathering rares. Good supplement for any player fill out your binder or get the awesome card to inspire a tourney winning deck. |
| Dimensions | 3.5" H x 2.5" W x 0.3" D |
| Ship Weight | 0.11875 pounds |
-
October 16, 2012
-- Alyssa Stultz
No duplicates, I think it was a great deal. got lots of cool cards.
-
December 07, 2011
-- Ryan Nicholson
I was very pleased with this purchase. I received two of this lot and came out with only two dupes, this was a bit surprising as I expected quite a bit more due to the reviews. This is great for building up a decent collection of rares and casual play. It's a great starter to players that want to build a deck around some great cards without spending too much. I would not recommend this to stock up to build a tournament deck by any means, but that usually is the given stigma in buying a random lot. More than satisfied with the purchase and the price, will buy again.
-
September 14, 2010
-- Leslie
Nice cards for the price.....thanks again T&T
Wow! What a fantastic purchase this was! Strong points of the purchase 1. All usable cards 2. 60% were multicolor cards which I base my decks around anyways so that's a Win for me. 3. Most cards were from the Alara block which is fine with me. 4. No foreign cards 5. Received 30/30 cards which shows attention to detail!I'm buying more tomorrow. Maybe with a request this time. Thanks T&T. I'll be doing business with you in the future for sure!
-
February 14, 2008
-- Tom
This is really good, I love these Magic Cards.
-
February 09, 2007
-- Anonymous
Unbelievable deal. Highlights included a 5th Edition Green Mana Battery, two Libraries of Leng, a Beatdown Force of Nature, and a Mana Clash and an Angry Mob straight out of _The Dark_...
-
December 18, 2006
-- A Dude
Sliver Queen!!!!!!!!!!!!!!!! It is worth 19.99 and I got it in this 13.99 set!!!!!!!!
-
April 26, 2006
-- tim link
As a new MTG player the rare pack gave me some great rares as well as cards to trade with my friends, we all found something we wanted. Tim laramie Wyoming
-
November 02, 2004
-- Andrew
Rares help many magic players win in tourneys. Without Rares many of the world's most successful decks never could have dreamed of being as good as they are. The point is the 30 rare lot is a very good way of getting many good rares that will help you be a great magic player. My rare collection is huge now after buying these and many of my decks consist of these cards. TrollandToad did a wonderful job creating these packs. I started buying five packs I recomend you do the same. You will not regret it.
-
October 07, 2004
-- Nate
At only 40 cents per rare, this is an excellent deal. Obviously most of the cards will not be tournament winners, but there are many good cards. It isn't like the "cheap bad rares" box at many stores. I bought 2 packs and got an assortment of cards from Antiquities through 8th Edition, all in near-mint condition. Some of the best cards were Eladamri's Call, Planar Birth, Planar Collapse, Zur's Weirding, Quicksilver Amulet, Sacred Mesa, and Smokestack. (There was also a Thoughtlace, but hey, not all the cards can be good.) A very good way to build your collection.
-
May 21, 2004
-- Anonymous
I received these cards very quickly, and was very pleased with the selection of rares i received. I actually received a rare signed by the artist as well. This is a great offer, i plan on buying these again very soon
The best pack of rares that I have ever purchased. Some great cards included. There were actually 31 rares in this lot and they were definately worth more than 12 bucks. Will purchase again. Thanks.
-
January 17, 2004
-- Anonymous
Great deal. Got all rares from sets I could never get anymore. Most I have never seen before. Had 1 foreign card in it, but its still usable. Shipping took longer than I had hoped.
-
December 12, 2003
-- frederic
This mix of 30 rares is an excellent deal. For no money, you have some very good cards that can help you build a deck. I hope you will continue selling this. If you're interested in buying this, do not hesitate.
-
November 03, 2003
-- Tabby Baxter
The best thing I ever got. Spend your money and buy it soon.:)
-
May 04, 2003
-- Anonymous
Awsome cards for no money.
-
March 22, 2003
-- Anonymous
EVERYONE THAT WANTS RARES SHOULD GET THIS NOOOW! I pulled 3 shambling swarms, 2 Birds of Paradise, 1 Spiritmonger, 3 Thunder Spirits (2/2s with first strike and flying for 1colorless and two plains)! This deal is GREAT! I got lots of Ice Age and Odyssey and some onslaught too. I also got 2 rares from 4th edition! I pulled one Balance (on of best cards in game) from that too! This thing is great, next time I'm going to buy like 10 of these! I repeat if you need rares, or looking to build a better deck, get this NOW!
-
November 30, 2002
-- Louis Groom
The 30 random rares is the best deal I know and i`ve been on all the web sites that involve magic the gathering cards.
-
November 27, 2002
-- Anonymous
This was the best pack ever. I got a ton of great rares, and instead of buying lots of boosters to get them i just bought one pack. Shivan wurm, serra angel, singir vamp., shadow mage infiltrator,and grimlava mancer. Those are just some of my rares.
-
October 26, 2002
-- Anonymous
This is such an amazing offer. Think of it this way, if you buy something in quanities you get alot for cheap.
-
September 02, 2002
-- Bj sarian
This is a good price and 30 rares is a alot. Whoever made this keep up the good work.
-
August 26, 2002
-- Anders
-
July 17, 2002
-- Anonymous
This pack totally kicks butt! In my pack i got a empress galina which rules! i also got a sibluant spirit which is excellent too. My best card was a beast of burden which has power and toughness equal to the number of creature cards in play.
-
June 27, 2002
-- Anonymous
I got some really great rares, helm of possesion, great for my goblin deck. i got some foriegn cards though, but if you find the translation, its ok for causual play, plus you could lie to your idiot friends about what they say. great price! buy lots!
I bought 2 of these lots. I got some decent rares and type 2 rares, plus they sent 2 bonus uncommons including a Lim-Duls paladin....nice
-
March 09, 2002
-- Anonymous
Great! This is the only way to descibe this product. Not only are you going to get at least 1 card you want ANY 30 rares is worth this price.
These are good for the money I got some rares i would not expect in rare lots.
-
November 28, 2008
-- ricky
i ordered four of these and was very pleased, however i didn't recieve any black, artifact, or land rares in the packs but overall it was pretty good.
-
November 05, 2008
-- Thomas
I'm very pleased with the pack I bought. I did get 4 doubles but I still got some pretty decent cards in the pack. I would recommend getting this.
-
January 16, 2007
-- PFC Wright
I'm deployed so its hard to get cards here. This was a pretty cool buy, although I couldn't use any in my green/red deck. I was really happy though, saw some that make me want to build a new deck based on white.
Overall its pretty good, but some uncommons and a shorted card ended up in my lot of two.
-
October 10, 2003
-- David Thomason
I never knew that a 4th edition Battering Ram was a Rare, but other than that I am happy.
-
October 13, 2002
-- Bubba
'Twas the best deal ever. The only problem is that I got 3 Ertai the corrupted and 3 Rubina Soulsinger(chronicles) in the same pack. Someone needs to look out for multicard shipments.
-
July 17, 2002
-- Anonymous
All it needs are some oddesy block rares.
-
August 28, 2011
-- Eric Curtis
I ordered this and didn't really get anything to special, its a good deal if you're interested in seeing what you'll get. Even though it wasn't the best experience, i'd do it again just to take my chances.
-
September 16, 2005
-- Anonymous
I got a Two-Headed Dragon and a Thorn Elemental.
-
December 09, 2004
-- john
I bought two of these and recived a total of 33 diferent cards. There were that many repeats between the two packs that I bought. This product gets three stars because some of the cards that I recieved were useful and will be good for trading. This product is worth buying but maybe only one at a time and then wait a month before you buy another.
It was all right, if you buy multiple sets expect copies.
-
December 04, 2003
-- Anonymous
I got 2 of these, and I got 30 cards a piece. Of the 60, 47 appeared to be played (very worn). Notching from tight rubberbands did not help. 1 of the cards is Italian, but still rare. Competitive pricing. Good choice to get cards for casual play with friends, but not good for collectors interested in mint/NM.
-
September 11, 2003
-- Biggum
It was good but.. I bought 2 of these and i had 12 that were duplicates.
-
March 14, 2002
-- Anonymous
I didnt get 30 rares, I only got twenty-eight, and two uncommons. But other than that it was OK. Most were from Invasion
-
April 02, 2004
-- David Molenaar
Well i was very excited about this deal. I ordered 2 sets of 30. I got them promptly, opened them, expecting to get a couple repeats. I got 30 pretty okay cards, definetly worth 12 bucks.
-
September 06, 2010
-- Anonymous
Based on all the good reviews here i thought i would give this a try. I didn't expect super rares. But i did figure i would get some random cards. What a disappointment when i opened the pack. 8x Illusionary Presence and 9x Dancing Scimitar. I will not be ordering this again.
Condition:
Assorted Lot Of Magic The Gathering Cards
Fulfilled By:
TrollAndToad.Com