Random Fat Pack or Bundle Box (MTG)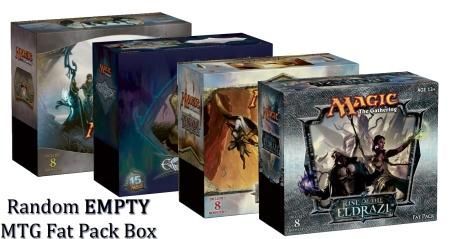 Rarity
Fat Pack
Description
This could be one of any number of Awesome Fat Pack Box!

Great for Carrying Cards and Looking Cool!

Boxes will be in near-mint to moderately played condition

In rare circumstances boxes may display "markings" or deficiencies
Dimensions
4.25" H x 7.25" W x 3.5" D
Ship Weight
0.31 pounds
-
March 22, 2012
-- Nick Rini
I bought 6 of these. I received 3x Mirrodin Besieged and 3x New Phyrexia. I was hoping for some older ones, but random boxes are random :)

Will definitely buy again when I need more storage.
-
March 21, 2012
-- Lawlzor89
Awesome product! I bought three boxes and each one was different! I got one M12, one Scars of Mirrodin, and one New Phyrexia. Trollandtoad is awesome. Hint: Trollandtoad is great with their customer service. If in your order notes, you ask for small favors (ie: making sure all fatpack boxes are actually random and all different), then they'll usually do it. They've always been really helpful to me!
-
March 15, 2012
-- Anonymous
I bought 5. I asked for as many different kinds as possible, and I got 2 Mirrodin Besieged, 2 New Phyrexia, and 1 Magic 2012. I use them to store 3 sleeved EDH/Commander dekcs and they work great. Considering that empty fat pack boxes usually go for at least 5 dollars, this was an amazing deal!!!!
-
March 14, 2012
-- Mat B
got 3 mirrodin besieged box. Would have liked a bit of diversity, but that doesn't stop this from being a 5 star deal.
-
February 19, 2011
-- John Stahl
I was hoping for a box from an older set, but I ended up with a SoM box like I already have. I'm still quite content with my purchase because it serves its purpose.
-
September 30, 2010
-- Mr. Awesome
Got 1 of these with my order. The price was GREAT. Box has a cool picture on it, but is a little worn. No worries, as I knew there was a possibility that it wasn't new going into the purchase. Can't go wrong for the price.
-
August 12, 2010
-- Paul
These are definately a good deal. Excellent storage.
-
July 23, 2010
-- William Maske
This is a good thing to buy. Cheap, nice carrier, and holds alot if cards
-
April 18, 2010
-- Peter Medved
Awesome! Awesome! Awesome! Recieved my 5 and they were all in EXCELLENT condition and each one a different picture/kind.

For those who have not seen these, they fit about 7 premade decks in their orignal box, so it is a bit wider than that, but not much. Really is designed well. Even without boxes, the cards fit in well and don't shake too much.s
I'm tempted in getting a few more as they are really nice storage boxes.
-
April 13, 2010
-- Peter
These are awesome! I bought 3 originally, and I just bought 5 more. One of the original 3 I got was heavly worn on the corners, but still worth the few dollars. Much nicer to look at then the standard white cardboard boxes. I hope I get some different images.
-
February 08, 2012
-- Anonymous
Good boxes. Pretty much brand new looking but there is no random factor at all. I ordered 4 and got 4 Mirrodin Besieged.
-
December 05, 2011
-- Olivia
Doesn't seem very random, seeing as I got one from Mirrodin Besieged and one from Scars of Mirrodin, but the boxes were in great condition, and not to mention cheap!
-
November 12, 2009
-- Jens N
You've got to be kidding me! I didn't think TrollAndToad were selling Fat Pack boxes !
I've been looking all over for a place to buy empty boxes like these; the Fat Pack box is one of the best ways to store your decks - they are solid, look awesome and they can carry large quantities of cards (around 5 sleeved decks).

If you're looking for a good way to protect your cards, you shouldn't look further. This is a great deal, and I honestly thought it would cost more.
-
March 18, 2011
-- Bungle
Indeed, absolutely excellent condition, however 2/3 current set and 1 current core set, bit of a disappointment.