Random Promo cards Magic the Gathering MTG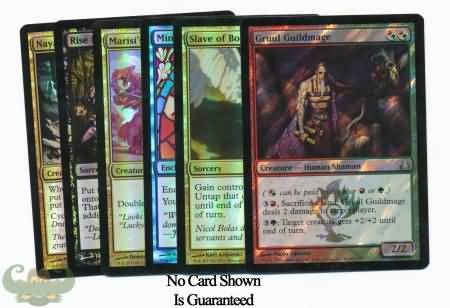 Condition:
Near Mint English Magic Card
Fulfilled By:
TrollAndToad.Com
Rarity
Random Single
Description
Please note: This random single card is NOT included in our special '99 cards or less for .99 cents' shipping promotion.

---

Promo cards that may be included in purchase are:
Full art textless player rewards
DCI Foils
Pre-release Foils
Release Foils
Player Rewards
and many other exciting promotional cards.

Dimensions
3.5" H x 2.5" W x 0" D
Ship Weight
0.004 pounds
-
February 08, 2013
-- Sarah
Very good deal! No doubles and it's not just new promos either. I got some cards from all the way back in '94. Nothing worth a huge amount but the variety of full arts and old cards I got definitely made it a fun buy.
-
March 11, 2011
-- L. Buys
Great buy! I only got two duplicates. My friends and I loved it. They went over well. I got a lot of stuff that is great for EDH too.
Phenomenal!!! Just Phenomenal!!!!! I first purchased 30 to have as door prizes for casual Magic nights - Amazing outcomes! People were smiling with their special foils and release dated cards, I was happy to see everyone having a great night! Since I started small with 30 of them, and all were unique, I decided to go bigger! 100 promo cards this time, only a few dupes, and event night was even more fun! The only thing that I noticed is that the older players didn't know what the full-art cards did! (I had to show them what the text on the card was~ lol) Thanks a lot, T&T! You guys make our game nights awesome!
-
December 20, 2010
-- Shea Reese
I agree with the previous reviewer, I ordered 6 and it was a fantastic choice, not a single duplicate. I got a beautiful type II foil and such many more. I'm about to order it again right now.
-
August 25, 2010
-- Anonymous
THIS IS AWESOME! I DIDNT EVEN GET DOUBLES OR TRIPLES I GOT 1 OF EACH ORDERED 40 YESH
-
August 08, 2013
-- Jeremy
Ordered 22 cards. Two cards I got x3. Four cards I got x2. 14 different cards. Two pre-release, two release, couple book/magazine ones, the rest were DCI. All NM condition. Would have liked a tiny bit more variety but, a good deal for the price.
-
January 25, 2011
-- João
Its a good deal but a lot of duplicates :S but still a good deal
-
January 24, 2011
-- TigerBreak
Ordered 60 of these - got a good mix of Gateways, Textless, Release Promos - and a ton of Sewars of Estark (13 of them). Don't expect expensive stuff in this, but it fills the trade binders well. I'm in for some more...
-
February 15, 2016
-- HB
Verified Buyer
Nice diversity across sets (no duplicates) and good condition. But nothing of any value, as all were from recent sets, and most of the cards were Italian and Portuguese. Disappointing overall, if completely within possibility
-
January 27, 2011
-- Jeff Collins
Got 28 Marisi's twinclaws and 11 Knight of New Alara out of 80 promo cards.
-
June 06, 2011
-- Cartridge
Out of 30 cards only got 3 separate cards (12 Marisi's Twinclaws, 12 Ancient Hellkitess, and 6 Lord of Shatterskull Pass) Yes they are cheap, but it's a terrible selection.
Condition:
Near Mint English Magic Card
Fulfilled By:
TrollAndToad.Com