20 Assorted Holo Rare Pokemon Cards (Pokemon)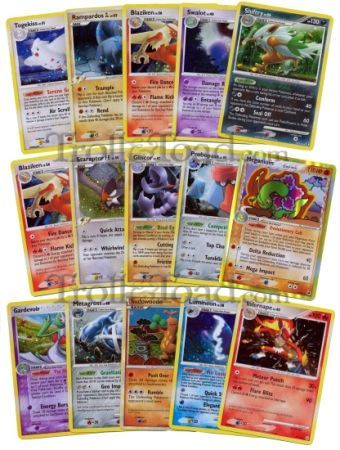 Fulfilled By:
TrollAndToad.Com
| | |
| --- | --- |
| Rarity | Card Lot |
| Description | 20 Assorted Holo Rare Pokemon Cards (Pokemon) is a Card Single Card from the Pokemon Lots & Bundles Pokemon set. This is a Pokemon Lot. The Pokemon (Pocket Monsters) franchise begain back in 1996 as a video game by Satoshi Tajiri and Game Freak. It has since gone on to become a world class TCG, toy line, Manga in CoroCoro magazine, movies and a hit anime series. We all know "Gotta catch em all!". See image for more details on this product. Additional Details: B00AYLKGYU |
| Dimensions | 3.5" H x 2.75" W x 0.3" D |
| Ship Weight | 0.07 pounds |
-
July 12, 2012
-- Ashley Owens
Ordered one set fifteen holos and was highly satisfied. All of the cards were in great shape and included some great pulls. Will purchase again!!
-
April 15, 2019
-- 7ha7as1an
Verified Buyer
Decent enough.
Holos were from two sets. S&M: Team Up and S&M: Burning Shadows. 8 of the 20 were duplicates. Packaging was great to ensure they arrive in great condition. All cards are in great condition. I'm skeptical about ordering more if more than half will be duplicates.
-
June 25, 2017
-- Hayley
Verified Buyer
Awesome!
Loved this set of cards. All in great shape from a good variety of sets. Mostly newer but a few old ones like a Rapidash from HGSS and a BW Zorowak promo.
-
May 20, 2017
-- Troll and toad first time customer ZW
Verified Buyer
pretty good
Although the price was slightly more than purchasing 20 seperate "random" holo cards. I personally did not receive any duplicates in the pack of 20. Making the slight difference more than likely worth the extra $1.and change. While purchasing "random" holo cards seperate i received 11/54 duplicates
-
April 20, 2015
-- dareis
-
September 01, 2011
-- Greg
Definitely worth the price, they pay for themselves and I will be ordering more!
-
February 04, 2011
-- PhillyDFoSho
from other reviews I heard that this website sent cards that had quality less than claimed, but I recieved these cards today and the quality is greater than what I expected! Definitely buying this lot again, and again, and again..and so on! :)
-
June 18, 2015
-- Rob
Verified Buyer
First product I have purchased from this site, and it was overall very good. Got some cool cards, all in better condition than I expected. Only down side a non holo managed to sneak in there, but not much to complain about.
Pretty good price for what I got! All cards were 9 or 10 condition. Pulled Celebi, 2 Gyarados, Froslass, Houndoom, Pachirisu, Magcargo, Clefable, Togekiss, Gliscor, Scizor, Porygon-Z, Honchkrow, Espeon, and Garchomp. Pretty good for $6.99! I will probably buy this again!
-
June 06, 2015
-- S. L.
Verified Buyer
Great value on amount of cards for the price, and especially if you get no duplicates. There''s different kinds of holo patterns, too, which is very nice. I got some great pulls with only one duplicate. However, about 5 of the cards I got were scummy on the back, which could be an anomaly, but otherwise I recommend this if you are looking for a boost to your collection.
Fulfilled By:
TrollAndToad.Com