3 Random Pokemon Booster Packs (Pokemon)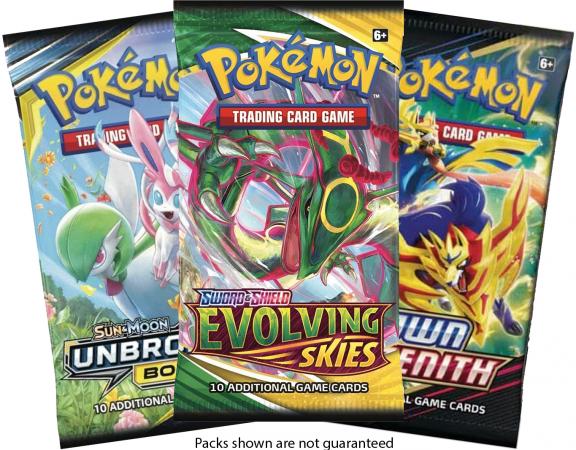 Fulfilled By:
TrollAndToad.Com
| | |
| --- | --- |
| Rarity | Booster Lot |
| Description | 3 Random Pokemon Booster Packs (Pokemon) is a Booster Lot from the Pokemon Lots & Bundles Pokemon set. This is a Pokemon Lot. The Pokemon (Pocket Monsters) franchise begain back in 1996 as a video game by Satoshi Tajiri and Game Freak. It has since gone on to become a world class TCG, toy line, Manga in CoroCoro magazine, movies and a hit anime series. We all know "Gotta catch em all!". See image for more details on this product. Additional Details: B001DIJ48C |
| Dimensions | 5" H x 2.5" W x 0.65" D |
| Ship Weight | 0.19 pounds |
Bought two sets and had some good pulls great overall buy even with the op series pack! Will buy more
-
May 28, 2015
-- Are these fake
Are these fake
Are these weighed and should I get these
-
September 20, 2017
-- Anonymous
I got all from the xy series and I managed to pull 2 ex cards out of it wish I could of got one older pack at least
-
May 15, 2015
-- Jeremy
Verified Buyer
definitely worth the money because these things are still super cheap no matter what sets you get, but out of 5 lots of 3 every single one was from the XY series, mostly Primal Clash
-
October 28, 2017
-- Copefresh
20 sets
Was quite disappointed with how much evolutions/fates collied/breakthrough/steam seige were in these, there was a ton with very little other sets. Not one pack from the any of the older sets in the picture so i feel like there is a little false advertisement. So far great pulls though so atleast they''re honest there with that
-
May 11, 2015
-- Jackie
Verified Buyer
Meh..
Bought 1 of these and got Primal Clash, Flashfire, and Furious Fists. I was hoping for some older sets, but these were still cool I guess.
-
July 27, 2020
-- Michael M.
Verified Buyer
Excellent! Very happy with this product!
I bought 2 of these and got 6 different packs. This was my first order from Troll and Toad and I was very very happy with the results. Overall I got really nice pulls including a holo Charizard from XY Evolutions ($33 value). Will definitely buy again.
-
August 04, 2018
-- Quincy
Verified Buyer
Good Product.
I just purchased this item and I am waiting to receive it. So far I''ve seen a few videos and people have gotten decent to good pulls. I''d say the same ratio for pulls, but there is a chance of a vintage pack. "SLIM to none" Overall I''ll leave my second review after I receive and open the product.
-
October 04, 2018
-- Jeffrey
25 Sets
Purchased 25 sets of three packs.Resulted with:Sun & Moon Base : 9Sun & Moon Guardians Rising : 9Sun & Moon Forbidden Light : 6Sun & Moon Burning Shadows : 6Sun & Moon Crimson Imvasion : 1XY Roaring Skies : 10XY Ancient Origins : 9XY Primal Clash : 9XY Steam Siege : 8XY Breakthrough : 7XY Fates Collide : 1Obviously a little but of a disappointment that I didn't receive anything from B&W or before. I will say all packs are in mint condition which is great. I wanted to get some XY packs to keep as an investment. All in all, still a great deal with whatever you get. Under 3$ a pack.
Fulfilled By:
TrollAndToad.Com