4 Random Booster Pack Lot (Pokemon)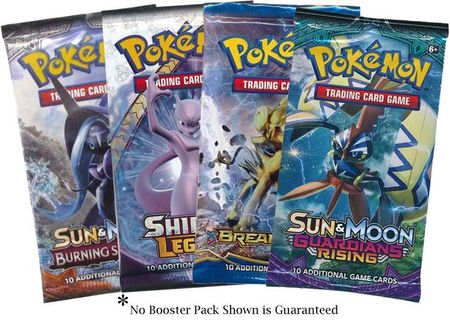 | | |
| --- | --- |
| Description | 4 Random Booster Pack Lot (Pokemon) is a card from the Pokemon Lots & Bundles Pokemon set. This is a Pokemon Lot. The Pokemon (Pocket Monsters) franchise begain back in 1996 as a video game by Satoshi Tajiri and Game Freak. It has since gone on to become a world class TCG, toy line, Manga in CoroCoro magazine, movies and a hit anime series. We all know "Gotta catch em all!". See image for more details on this product. Additional Details: NONE |
| Dimensions | 4.5" H x 2.5" W x 0.65" D |
| Ship Weight | 0.16 pounds |
-
November 07, 2019
-- Cassandra
Verified Buyer
Very happy
I ordered 10 of these (40 packs) and was super happy with the pulls! The variety was pretty good, Breakpoint, evolutions, steam siege, xy Roaring skies, sun and moon base set, some burning shadows, unified minds and team up. Not terrible, but also not anything special.Definitely not weighed and I'm happy with them for sure
-
September 23, 2020
-- Elliot
Verified Buyer
Good pulls, but bad variety
I ordered two sets, (8 packs) and got all sun and moon packs, each set of 4 had identical packs. Definitely not weighed, but not great variety.
-
February 28, 2018
-- PJ
Verified Buyer
I know its random but...
3 Evolutions packs, 1 Sun Moon Basekinda expected at least one older pack, or some more variety. Normally I am very pleased with my Troll and Toad orders, unfortunately this was not one of those times.