Random Pokemon Non-Holo Rare Cards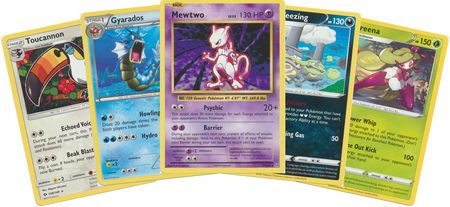 Condition:
Near Mint English Pokemon Card
Fulfilled By:
TrollAndToad.Com
Sell to Us $0.09
*
* The 'Sell to Us' price may reflect an added website credit bonus. Other buy list payment methods will not include this.
| | |
| --- | --- |
| Rarity | Random Single |
| Description | Random Pokemon Non-Holo Rare Cards is a Random Single Card from the Pokemon Lots & Bundles Pokemon set. This is a Bulk Single Card. The Pokemon (Pocket Monsters) franchise begain back in 1996 as a video game by Satoshi Tajiri and Game Freak. It has since gone on to become a world class TCG, toy line, Manga in CoroCoro magazine, movies and a hit anime series. We all know "Gotta catch em all!". See image for more details on this product. Additional Details: NONE |
| Dimensions | 3.5" H x 2.5" W x 0.001" D |
| Ship Weight | 0.004 pounds |
-
April 03, 2016
-- G
Verified Buyer
Ordered 10, no holos, no duplicatesShipped very quick (I live in the US)
-
January 12, 2011
-- Big "D"
I ordered 10 Rares. All 10 were from HGSS: Triumphant... That's the bad news. The good News: One of the cards was Alph Lithograph #4!!!!!! :)
Best deal ever. My order came today, I got four cards near mint/mint condition. All rare/stars. Non holo. Definitely going to order more soon. I highly recommend you do too.
-
December 28, 2019
-- Kara
Verified Buyer
Worth the price, but expect some high duplicates
I got 100 cards as ordered and nearly all of them were Near mint as advertised (there was only one exception). I was pretty satisfied with the outcome. About half of the rares were from Boundaries Crossed, and I would have preferred to get fewer cards from just one set, but the other cards were pretty varied between gen 4-7 expansions. My only main gripe is the x9 Boundaries crossed Camerupts and the x12 Sun and Moon base set Cloysters. The duplicates beyond that were not too bad and mostly came from the Boundaries Crossed expansion. I can see myself buying these again after the first few Sword and Shield expansions are released.
-
April 01, 2016
-- Christopher
Verified Buyer
Pretty decent in a good way.
I bought 10 single cards simply to add to my collection. The majority of cards were from 2014-2015, with only one duplicate.
Received a lot of doubles, but overall, the cards were in near-mint condition. Some cards I got were completely bent and worn and were worthless, but only 2 of the 30 i ordered were this way. If you don't mind the doubles, it's a great way to pump up your trade material and collection.
--Prepare for a lot of doubles--This was a good lot for me because i like to trade cards and i can trade the doubles away without trouble. The cards were all in really good condition, near mint or better. Two fossil cards (Lapras no less), quite a bit from Ex team rocket, newer stuff like call of legends, and HS Triumphant which was great for me.A little more diversity would be nice with respect to both set and card distribution.Pumped up my rare stock nicely.
-
June 29, 2011
-- William and Steven
Good buy, with all of the cards being sold for more than we bought them for (With the minimum being sold for about 5c more than we bought it for). There were a few duplicates, but we liked the mystery. You basiclly get 25 rares for the price of a booster pack, only they are all rares and from a wide variety of series.
-
April 21, 2011
-- Kirsty Light
I've just ordered 100 of these that are due to be with me in about 2 weeks. It's a pretty sweet deal which is why I bought them, it's a shame however that there are no holographic cards included, which presumably means no Lv X's, Primes, Legends, Ex's, Gold stars and so on. So that is a bit of a shame but with any luck these'll help me fill my collections a little more, even if the cards won't be holographic.
The 36 cards I received were all nearly in mint condition, which was awesome. Though I'm somewhat sad that it wasn't from the latest sets. Also, even though I was expecting duplicates (3 at the most), I didn't really think I would get 7 Beedrills and 4 Hypnos literally one after the other... In my honest opinion, I think it would've been worth it to buy little at a time.
Condition:
Near Mint English Pokemon Card
Fulfilled By:
TrollAndToad.Com
Sell to Us $0.09
*
* The 'Sell to Us' price may reflect an added website credit bonus. Other buy list payment methods will not include this.