Random Non-Holo Yugioh Rare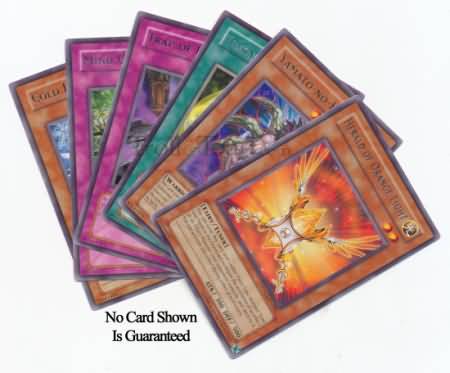 | | |
| --- | --- |
| Rarity | Random Single |
| Description | Random Non-Holo Yugioh Rare is a YugBulkSinglecard from the Yu-Gi-Oh! Lots & Bundles Yugioh set. This is a Random Single. Yugioh began back in the mid 90's as a weekly short in Shonen Jump by 1999 the TCG game had launched in Japan. Yugioh has gone on to become one of the top card games in the world and has now surpassed 20 years of competitive play worldwide. Additional Details: NONE |
| Dimensions | 3.5" H x 2.5" W x 0.01" D |
| Ship Weight | 0.0036 pounds |
-
August 09, 2011
-- Michael Ekstrom
I got some very great card by ordering a set of fifty of these. I was able to boost three of my decks, and start two more using the cards I got from this. For a great price, and in amazing quality, and in a quick period of time, this is definitely a good buy.
I bought 300 and got a huge variety. The most duplicates of one card I got was 3 which I don't mind at all, and I got alot of very good cards. I definitely recommend buying this because its dirt cheap.
-
April 10, 2011
-- Davis
0.03 cents?! LOL, this is a steal! I'ma buy some.
-
January 29, 2011
-- Anonymous
really goood i got a formula synchron
-
May 14, 2008
-- Tin Nguyen
I agree with the Anonymous dude from Phoenix.. I got some good ones.. Get it to fill your 30 card for 1 buck delivery
-
July 13, 2011
-- Joshua Kunnen
Amazing Price, and crazy resale value, but shipping was a killer! $12 for 400 cards is quite a bit. :/but still at 3 cents a card, thats crazy cheap! Thanks Guys, looking forward to buying again!
-
January 05, 2011
-- Vincent
Well worth the price! Just wish there was more variety when ordering larger quantities.
-
August 17, 2009
-- Anonymous
Pretty good cards, I did get 2 duplicates but its no big deal as long as they aren't all the same. Some cards look a bit used but hey $0.05 a card isn't bad.
-
July 24, 2009
-- Pablo Sanchez
this is very good but i ordered 100 and 67 of them where doubles. but on the other hand i got some !crazy! cards
-
September 13, 2007
-- Anonymous
Very good price. mEach rare is worth at least $1 on nother sites. Every yugioh collector should get some.
-
March 16, 2011
-- Anonymous
Bought 75, 70 of duplications, 5 were ok. Didn't like much because it all came from the same box, Absolute Powerforce. If it was RANDOM sorted, it would be worth buying.