Rules Compendium softcover core book (D&D 4th Edition RPG)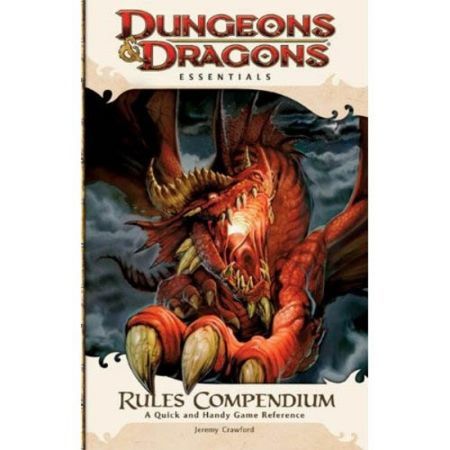 Condition:
Near Mint Role Playing Game
Fulfilled By:
TrollAndToad.Com
Isbn
9780786956210
Description
A quick and handy rules reference and guide for the Dungeons & Dragons Fantasy Roleplaying Game.

This handy and comprehensive Dungeons & Dragons book is intended as a quick rules reference. It contains the complete core rules for the 4th edition Dungeons & Dragons Fantasy Roleplaying Game.

In addition to providing an overview of the game and how it's played, this book presents the core rules in a format that is easily referenced during a game. It includes information on level advancement, combat, experience points, treasure, skills, equipment, and more.
Dimensions
12" H x 9" W x 1" D
Ship Weight
4.3 pounds
-
September 09, 2011
-- Zack
This book is quite handy, but it is for aesthetics instead of usability. From the class books, it covers the same rules in the beginning of it, making this book a "I have it to have it." It does its job of referencing the rules, but the rules are covered in the class books, whichever one you may be playing. It's a well made book and I enjoy thumbing through it. But save your money.
Condition:
Near Mint Role Playing Game
Fulfilled By:
TrollAndToad.Com