Ancient Sacred Wyvern - ANPR-EN043 - Ultra Rare 1st Edition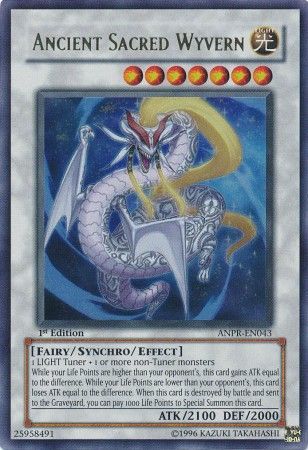 Condition:
Near Mint 1st Edition English Yugioh Card
Fulfilled By:
TrollAndToad.Com
| | |
| --- | --- |
| Rarity | Ultra Rare |
| Description | Ancient Sacred Wyvern - ANPR-EN043 - Ultra Rare 1st Edition is a Yugioh Ultimatecard from the Ancient Prophecy [ANPR] 1st Edition Singles Yugioh set. This is an Ultra Rare. Yugioh began back in the mid 90's as a weekly short in Shonen Jump by 1999 the TCG game had launched in Japan. Yugioh has gone on to become one of the top card games in the world and has now surpassed 20 years of competitive play worldwide. Additional Details: B0062E1M5A |
| Dimensions | 3.38" H x 2.31" W x 0.012" D |
| Ship Weight | 0.004 pounds |
-
May 15, 2011
-- Tom Stavskis
Good for any type of burn or stall deck. I ordered the ultimate unlimited played version and it is good enough to be classified as near mint. It is the BEST looking ultimate card. The effect might make you lose att if your life points are lower, but any type of deck that doesn't protect life points shouldn't use this card. Also don't try to get this card on the field without any way of getting your life points up. I use this in my watt deck (lockdown/burn) and it works amazingly.
-
May 09, 2011
-- Joshua Flores
This card is BROKEN!With a deck that pops first turn decree and spams mist wyrms and trishulas, this card is the finishing hadouken for any otk deck. Any damage you deal first turn just buffs him up even more. I remember buying 2 for $2 awhen it came out but now I can definitely seeing this card being played with fabled and many other otk decks out there.
-
April 19, 2011
-- Eduardo
If you have a deck based on getting life points up quickly then this card you need. If your using a deck in which your life points are constantly shifting like Psychics then this could be good or bad. I run a life point increase deck and when this card is on the field its attack is usually about 10000. Five Stars because I haven't had any bad experiences with it.
-
February 21, 2010
-- Anonymous
Pretty Situational. However, with the Elecimal cards coming out, this can become a pretty potent beatstick.
-
August 27, 2009
-- LK EDGE
If your winning perfect card to have on the field.. One direct attack from this card in the first turns of a duel doubles its attack so why not buy it... I beat alot of my friends with this card already =)
-
August 27, 2009
-- Anonymous
Pretty bad if you have less life points...
Condition:
Near Mint 1st Edition English Yugioh Card
Fulfilled By:
TrollAndToad.Com