Black Luster Soldier - Envoy of the Beginning - IOC-025 - Ultra Rare 1st Edition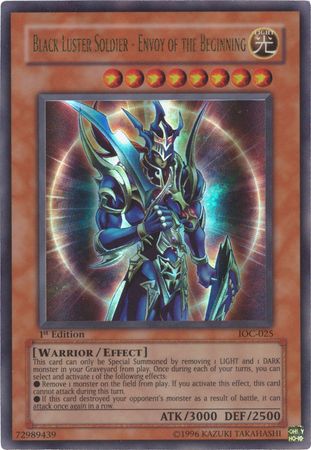 Condition:
Near Mint 1st Edition English Yugioh Card
EVO Merchant:
Impulse Gaming
Fulfilled By:
TrollAndToad.Com
| | |
| --- | --- |
| Rarity | Ultra Rare |
| Card Type | Monster |
| Card Text | This card can only be Special Summoned by removing 1 LIGHT and 1 DARK monster in your Graveyard from play. Once during each of your turns, you can select and activate 1 of the following effects: ?Remove 1 monster on the field from play. If you activate this effect, this card cannot attack during this turn. ?If this card destroyed your opponent's monster as a result of battle, it can attack once again in a row. |
| Creature Type | Warrior/Effect |
| Level | 8 |
| Attack | 3000 |
| Defense | 2500 |
| Attribute | Light |
| Description | Black Luster Soldier - Envoy of the Beginning - IOC-025 - Ultra Rare 1st Edition is a Yugioh Single Card from the Invasion of Chaos [IOC] 1st Edition Singles Yugioh set. This is an Ultra Rare. Yugioh began back in the mid 90's as a weekly short in Shonen Jump by 1999 the TCG game had launched in Japan. Yugioh has gone on to become one of the top card games in the world and has now surpassed 20 years of competitive play worldwide. Additional Details: B002MHILMI |
| Dimensions | 3.38" H x 2.31" W x 0.012" D |
| Ship Weight | 0.004 pounds |
-
November 29, 2011
-- David Helton
This card is finally seeing the decks again, this is probably a once in a lifetime chance, i have this card in my synchro deck.it flows as beautiful as lotus petals on water
-
December 21, 2010
-- Vincent
It's a nice card, but nothing compared to Chaos Emperor Dragon and Yata-Garasu.
-
November 02, 2009
-- David Helton
i have the honor of having this card and i gotta say this card along with Gearfried the Swordmaster is the 2 best warrior cards to have in any street dueling deck i hate that this card is banned they need to let the envoy cards in so they can wreck dueling havick!!!!
-
September 16, 2009
-- andrew gariepy
I have bls but only the chinese card
-
October 18, 2008
-- Chris Corrigan
OMFG just imagine if this powerhouse was unbanned even for one list, it would dominate the entire game again. Removed from play zones and Graveyards would be filled alike, and Life Points reduced by the thousands. 1 LIGHT and 1 DARK is a very low cost for a blue-eyes stated monster and not to mention 2 great effects. It is considered just under the wing of Chaos Emperor Dragon, but i think its right along its side, if not riding on it. (Imagine, an envoy fusion!)
-
February 20, 2008
-- Anonymous
This card is one of the best cards in the whole game. the only downfall is that it is banned. But if you create a deck consisting of light and dark monsters you can easily get this card out with the special summon. if you are afraid to attack and get caught by a sakaretsu armor or mirror force, then use his second ability! Remove from play one monster on the field!
-
January 21, 2006
-- Scott Cremieux
I think everyone shoud have this card if you want to be a better duelist.If you dont have this card start begging to get this card; when i got this card i became the best duelist in my class.
-
January 09, 2006
-- Ryan
this is the best monster in the whole game if u want to win put in ur deck and consintrate on gettin it out (trust me i owned it once and i regret to this day tradin it)
-
August 14, 2009
-- Sweet
It's a decent card, but like all cards, it has it's flaws. As far as the attacking effect goes, A sakuretsu armor or synchro deflector could get it out of the way in a heartbeat. other then the few cards that could easily get rid of it, it is a difficult card to beat, so if you can use it effectively (warrior/ spellcaster deck) then by all means, use hime like a red-headed step child.
Condition:
Near Mint 1st Edition English Yugioh Card
EVO Merchant:
Impulse Gaming
Fulfilled By:
TrollAndToad.Com