Fiend Comedian - LOD-098 - Common 1st Edition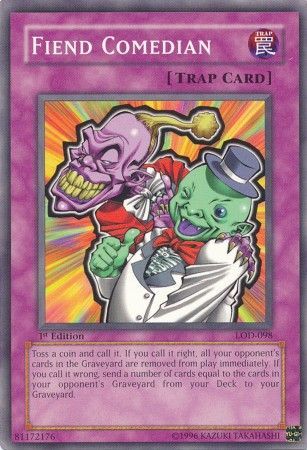 Condition:
Near Mint 1st Edition English Yugioh Card
Fulfilled By:
TrollAndToad.Com
Rarity
Common
Description
Legacy of Darkness was the 6th expansion of the Yugioh TCG. It was released in June of 2003 and consisted of 101 cards total. Noteworthy cards from Legacy of Darkness include Dark Ruler Ha Des, Injection Fairy Lily & Yata-Garasu.

Spirit monsters were first introduced in this set. Spirit monsters possess the ability "Spirit" and they are able to return to the hand during End Phase.

Legacy of Darkness consists of the following rarity breakdown:

62 Commons
17 Rares
10 Super Rares
10 Ultra Rares
2 Secret Rares

Dimensions
3.38" H x 2.31" W x 0.012" D
Ship Weight
0.004 pounds
-
September 16, 2014
-- Jay P.
Overlooked Game Changer Fiend Comedian
Let's take a look at a card that many of you have probably seen, but most of you have probably never read. I am talking about Fiend Comedian, a card that, while once very much useless, has come to be a very viable main deck (or at least a must have side deck) card in the current meta. In fact, I don't see this card ever becoming valueless unless traps in general become obsolete. Now, the text of the card is very straight forward. When this card is activated, the player who activates it tosses a coin and calls heads or tails. If they call it right, they banish their opponent's graveyard. If they call it wrong, they mill the same number of cards their opponent has in their graveyard from their own deck. I can already sense the gears spinning for the more competitive players out there, but I am going to break this down further. Some people might be looking at this card and thinking, "I don't want to have to rely on a coin flip for an OP effect," and you are absolutely correct in thinking so, but that is only true for situational cards. This card is not situational (though it does have some instances when it can completely disrupt an opponent's plays if you call the coin toss properly). This card is perfect for today's meta game, because a vast majority of decks use graveyard presence to their advantage. Let's look at Lightsworns and Bujingis, as both of these decks are very extreme examples. Many cards in these archetypes say something along the lines of, "If this card is in the graveyard, use some OP effect," or "If this card is sent from the deck to the graveyard, activate some other OP effect." Both of these decks have also seen play time recently in tournaments at all levels of play. If you are using Fiend Comedian, and you manage to draw into it, you can count on:A) Some devastating graveyard hate on the opponent, removing their resources from play and crippling more than half of their set up-OR-B) Warping a sizable army of fodder to your own graveyard and increasing your optionsThere are, of course, times when it is more opportunistic to play Fiend Comedian than others. Let's say your opponent just got their fourth Lightsworn monster in their grave and you know they are holding Judgement Dragon. Sure, you might not call the coin flip right, but there is the 50% chance that you do, and if you don't, at least you can hope for Bujingi Fox, Necro Gardna or some other saving grace card that works in the graveyard and sees a lot of play. Overall, I give Fiend Comedian 5 stars because of its versatility in many decks as a staple, its answer to so many common problems, its playability (I love unconditional trap cards that can activate in response to their own destruction), its low price and its troll factor (seriously, who is expecting Fiend Comedian in modern game play?) I have not seen a player successfully play Fiend Comedian and lose, and I see quite a few use it now that I have given this card out to players at the shop I judge at. It might not seem like a viable card upon first reading it, but don't make that decision until you have used it at least once in a competitive duel. I guarantee it will boost your deck's win:loss ratio.
-
September 26, 2010
-- Vu
Toss a coin?The both sides are good for you(if you use a venom deck)
Condition:
Near Mint 1st Edition English Yugioh Card
Fulfilled By:
TrollAndToad.Com