Obelisk the Tormentor - LC01-EN001 - Ultra Rare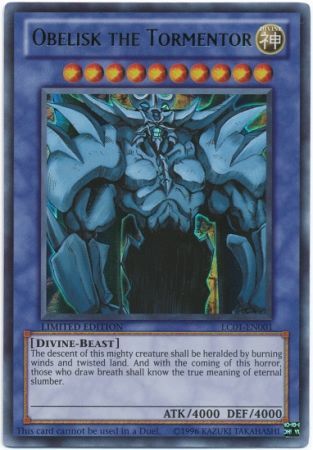 Condition:
Near Mint English Yugioh Card
EVO Merchant:
Impulse Gaming
Fulfilled By:
TrollAndToad.Com
| | |
| --- | --- |
| Rarity | Ultra Rare |
| Description | Obelisk the Tormentor - LC01-EN001 - Ultra Rare is a Yugioh Promo Card (no edition) card from the Legendary Collection 1 [LC01] Yugioh set. This is an Ultra Rare. Yugioh began back in the mid 90's as a weekly short in Shonen Jump by 1999 the TCG game had launched in Japan. Yugioh has gone on to become one of the top card games in the world and has now surpassed 20 years of competitive play worldwide. Additional Details: B0062DWEPI |
| Dimensions | 3.38" H x 2.31" W x 0.012" D |
| Ship Weight | 0.004 pounds |
-
March 27, 2018
-- vvvvv
-
August 28, 2015
-- Brandon Lovett
Verified Buyer
A very useful card in an extremely tight spot.
I used this card a few times and this is by far my most favorite of the 3 Egyptian God''s. I built a burn deck with this card and love to use it''s special ability to attack for 4K direct damage. I won the round in 3 turn after summoning this beast.
-
July 07, 2011
-- obelisk
By far the most powerful Egyptian god card ever
-
July 07, 2011
-- Anonymous
Obelisk is the most powerful if you know how to use him
-
May 29, 2011
-- kaileb dilcher
this a is good card in matter of fact i orderd it friday may 27th but it only says it cant be used in a duel because it doesnt have rules.
-
March 29, 2011
-- Chris
What it says on the card is only because it doesn't have proper rules/summoning displayed on this particular card. You can, however, play Egyptian God cards in a duel. I'm not sure of the rules on them, but they have been used in some local tournaments around here :o.
-
January 29, 2011
-- YOUR MOM!
No guys you cant use Egyptian Gods to duel with!!! it says it on the card!
-
January 11, 2011
-- the king of games
i all ready have all three of them
-
October 23, 2010
-- nihar
this guy is really awsome i wish i had this egyptian god
-
March 18, 2016
-- Anonymous
OVERPOWERED BEAST
It is so good, i mean yes you have to sacrifice /tribute 3 monsters, but who cares, ITS OBELISK THE TORMENTOR. ONE OF THE EGYPTIAN GOD CARDS, I mean it is not the best card, but still
-
December 22, 2010
-- isaac
Obelisk is the strongest and easiest to use. Slifer is way more needy, and Ra just plain sucks.Obelisk works in a deck based on preparing ample monsters to sacrifice. Which is very simple, but also he can use excess to clear the field.
-
December 13, 2010
-- Anonymous
obelisk is actually the stongest if u know how to use him hes unstoppable
-
November 02, 2010
-- Anonymous
this is the weakest god card
-
June 13, 2011
-- Anonymous
The only God Cards you CAN use are the ones that have been re-released as Effect Monsters. If you were to use the original Ra and Slifer, technically their ATK and DEF would be 0, and the Obelisk is colored as a Ritual Monster, with no Ritual to Summon him. The Effect versions of Obelisk and Ra have been released so you can effectively use them with little trouble.
Condition:
Near Mint English Yugioh Card
EVO Merchant:
Impulse Gaming
Fulfilled By:
TrollAndToad.Com