Necro Gardna - TAEV-EN012 - Super Rare 1st Edition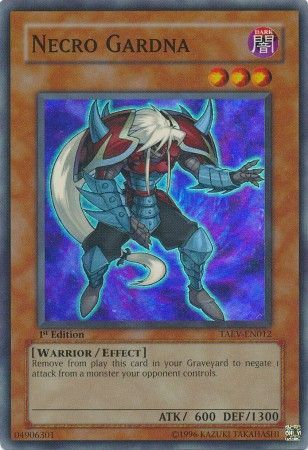 Condition:
Near Mint 1st Edition English Yugioh Card
Fulfilled By:
TrollAndToad.Com
| | |
| --- | --- |
| Rarity | Super Rare |
| Description | Necro Gardna - TAEV-EN012 - Super Rare 1st Edition is a Yugioh Ultimatecard from the Tactical Evolution [TAEV] 1st Edition Singles Yugioh set. This is a Super Rare. Yugioh began back in the mid 90's as a weekly short in Shonen Jump by 1999 the TCG game had launched in Japan. Yugioh has gone on to become one of the top card games in the world and has now surpassed 20 years of competitive play worldwide. Additional Details: B0028WKVL6 |
| Dimensions | 3.38" H x 2.31" W x 0.012" D |
| Ship Weight | 0.004 pounds |
-
March 24, 2009
-- Patrick
Excellent card for Lightsworn. These guys will quickly fill your grave, and then prevent an opponent's OTK with their own Sworn or stop a Gyzarus tag. Also, the potential for Crush Card Virus exploits makes this card way too good to pass up.
-
February 24, 2009
-- Brandon
Thats why I said Dump Him or Mezuki with Armegeddon Knight ORRRRRRR Foolish Burial.
-
May 16, 2009
-- mr.ferguson
great card i have 3 in my jinzo deck its saved me many times
-
February 12, 2009
-- Chris Corrigan
Pretty awesome in today's meta with all the deck milling and such, but I must comment on the other guy's comment. You CANNOT dump Mezuki with Armageddon Knight as Mezuki is an EARTH attribute monster.
-
October 02, 2008
-- Brandon Murray
Good card. I play this in my lightsworn deck but I also like dumping him or mezuki with armageddon knight or foolish burial in my zombie deck.
Good tech in todays meta. Good in lightsworn. Good in DaD.
Condition:
Near Mint 1st Edition English Yugioh Card
Fulfilled By:
TrollAndToad.Com