Risk: 2210 A.D. small box version (Avalon Hill)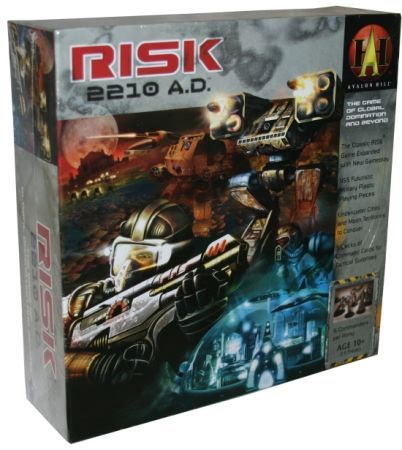 Condition:
Near Mint Board Game
Fulfilled By:
TrollAndToad.Com
Description
Who Will Be the New World Leader?

In the year 2210, the world is at war.

As the leader of a warring faction, you control the destiny of your people. On the Earth, in the great underwater domed cities beneath the oceans, in orbit, and even on the Moon, you must marshal your forces, send forth your troops, and hire the right commanders to crush your enemies. Build alliances if you dare, but be wary of whom you trust. Energy is the currency of the 23rd century; spend yours wisely and you just might conquer the world--and beyond.

RISK 2210 A.D. also includes everything needed to play the classic game of Risk.

In the end, endurance, skill, and guts will prevail, and one leader will rule the planet. Do you have what it takes?

This is the small box version
Dimensions
10.5" H x 10.5" W x 3.5" D
Ship Weight
3.407 pounds
-
January 12, 2008
-- Anonymous
To say this isn't the original Risk is a bit of an understatement; more than enough has been changed so even an experienced Risk vet is likely to have to change their strategy so they don't end up losing before the war even begins. Definitely one to pick up if you love Risk!
-
September 20, 2006
-- Daniel Rose
If you like the original risk but want the game to go by quicker this is the game for you. This game is more strategy oriented and not all about the gung ho of look how fast I can conquer the world like in the original risk. It allows even the least experienced players to make a huge impact on the game. By far this game takes risk to a whole new level.
Condition:
Near Mint Board Game
Fulfilled By:
TrollAndToad.Com