Demonomicon hardcover supplement (D&D 4th Edition RPG)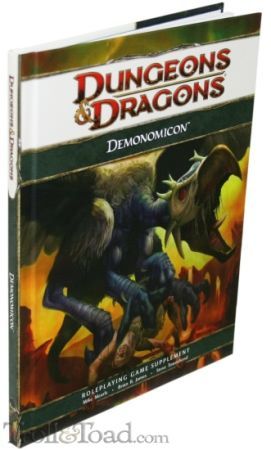 Condition:
Near Mint Condition Hardcover
Fulfilled By:
TrollAndToad.Com
Barcode
9780786954926
Isbn
9780786954926
Set
Dungeons & Dragons 4th Edition
Description
A reference to the legendary Demonomicon of Iggwilv the Witch Queen, her book holds a great deal of information on her studies in demonic lore, ranging from her personal experiences with Demon Lords, such as Graz'zt, to her countless years of study on the nature of The Abyss.

Presented in this book is just some of Iggwilv's knowledge, letting Dungeon Masters add to their campaign more detailed information on Demons, and also unleashing new horrors on their players, such as Incubi, agents of the Dark Prince Graz'zt, to the Wendigo, demons who drive mortals to acts of cannibalism. If low ranking demons aren't enough to threaten your players, a new Demon Queen has crawled her way up from the depths of The Abyss. Let the players know fear and isolation as they face Oublivae. She is the Angel of the Everlasting Void, the Demon Monarch of the Barrens, and the Queen of Desolation. She seeks to destroy unity and bring all civilizations to ruin, and her realm personifies this, as all civilizations past, present and future lie in a ruined image within the Barrens.
Dimensions
11" H x 8.5" W x 0.5" D
Ship Weight
1.42 pounds
-
July 19, 2010
-- Iggwilv the Witch Queen
All the information on Demons, The Abyss, and Demon Lords that your wicked heart could desire.
Condition:
Near Mint Condition Hardcover
Fulfilled By:
TrollAndToad.Com