Dragonlance Campaign Setting hardcover supplement (D20/D&D 3.5) WOC869900000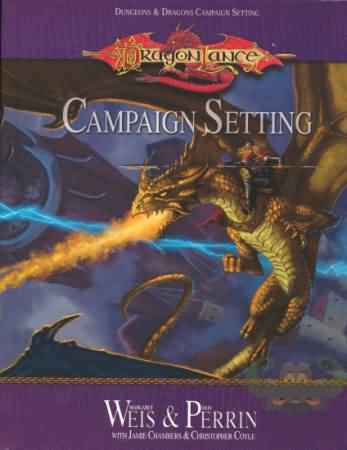 Condition:
Near Mint Role Playing Game
Fulfilled By:
TrollAndToad.Com
Barcode
9780786930869
Isbn
0786930861
Description
Dragonlance Campaign Setting

---

Sagas from the lands of Krynn are filled with valiant heroes destined to discover ancient secrets and vanquish terrible evils. Like those great champions, you will band together with brave companions to set forth on daring adventures.

The tales of those bold deeds will become the newest legends in the world of Dragonlance. From Solamnic Knights and Dragon Riders to kender, tinker gnomes, and draconians, the rich tapestry of the Dragonlance world comes alive in this campaign setting for the Dungeons & Dragons roleplaying game.

With historical content covering eras from the War of the Lance to the War of Souls, along with expanded rules for aerial combat, the Dragonlance Campaign Setting provides the character races, prestige classes, feats, spells, monsters, and maps you need to fully explore the world of Dragonlance.

---

Dimensions
11.25" H x 8.5" W x 0.75" D
Ship Weight
2.3375 pounds
-
September 09, 2011
-- Dragonslayer221
The Dragonlance Campaign Setting is playable on its own, but best paired with the Bestiary of Krynn for monster encounters. The book itself has easy to read text and is detailed enough to capture the essense of Krynn. I would easily rate this as a 4 star product, save for two things. Many of the illustrations in this book are not of the quality that one would expect for a Dragonlance setting. Although the artwork is acceptable, many of the full color illustrations are not as good as the line drawings in 2nd edition products. Secondly, the book is very detailed to the point of confusion. Unless the reader is already familiar with the timeline and ages of Krynn, the information can be a bit tedious as it covers places and events through the ages both of the worlds past and future. The War of the Lance and Age of Mortals campaign settings remedy this quite well, and are excellent additions to what is presented in this book.
Condition:
Near Mint Role Playing Game
Fulfilled By:
TrollAndToad.Com