Spectral Magelord #46 Dungeons of Dread D&D Miniatures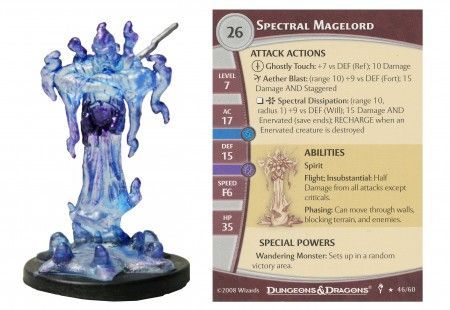 Condition:
Complete Miniature Including Card
EVO Merchant:
TrollAndToad.Com Classic
Fulfilled By:
TrollAndToad.Com
Rarity
Rare
Description
Dungeons of Dread Rare Single

In an ancient time of magic and monsters, the factions of light and darkness battle for the fate of the world. Within unexplored ruins and dread dungeons, bold adventurers clash with horrific creatures-including dragons, demons, and umber hulks.

The latest D&D Miniatures game release includes several remarkable D&D characters and popular D&D monsters - all modeled in the new 4th Edition style. With a concentration on the dungeon environment, this set also includes various figures drawn from key D&D titles, including the new Monster Manual. Select figures also come with a second stat card that features epic-level statistics for high-level versions of those figures.
Dimensions
1.5" H x 1" W x 1" D
Ship Weight
0.02 pounds
-
October 15, 2011
-- Elrond
I'm so glad I picked up one of these. It looks great in blue transparent plastic and can stand in for any incorporeal undead (especially a specter since the mini labeled "specter" doesn't look anything like a specter). It is perfect for the incorporeal undead mages that appear in the City of the Spider Queen adventure. Very much a mini worth having.
Condition:
Complete Miniature Including Card
EVO Merchant:
TrollAndToad.Com Classic
Fulfilled By:
TrollAndToad.Com