Senate Commando #33 Galaxy at War Star Wars Minis Common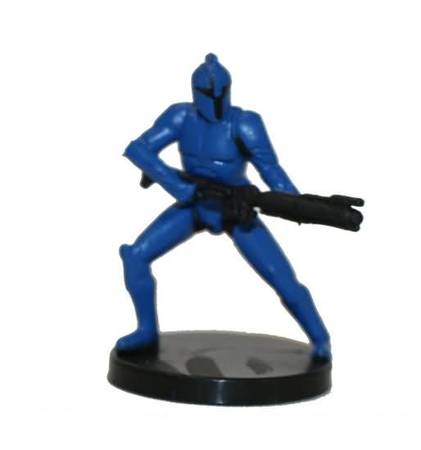 Condition:
Complete Miniature Including Card
Fulfilled By:
TrollAndToad.Com
| | |
| --- | --- |
| Rarity | Common |
| Set | Galaxy at War |
| Description | Galaxy at War Single Miniature |
| Dimensions | 3" H x 1.5" W x 1.5" D |
| Ship Weight | 0.02 pounds |
-
January 01, 2012
-- MandoJedi
Double Attack AND 30 damage! This is a must have for any republic squad.
-
February 03, 2011
-- Anonymous
I love this guy because if you put him with Argyus and Yularen, he can attack 4 times.P.S. put him with Commander Gree( clone wars) and more senate commandos to get 17 attack 50 damage
-
January 27, 2011
-- nobody
The Senate Commando is one of my favorite miniatures! He has 30 damage, Double Attack, and a good attack and defense. However, there is a way to maximize his firepower by a lot. I saw in the first review that someone mentioned pairing him with General Skywalker. I'm going to take it a little farther. With General Skywalker's Commander Effect, the Senate Commando gains Momentum, giving him +4 attack and +10 damage against adjacent enemies. Now add in Admiral Yularen, giving the Senate Commando an additional +4 attack and +10 damage against an activated enemy. To finish it off, put R2-D2, Astronomech Droid with tow cable in your squad, you will definitely win. To break it down, you have a 20 cost character with 17 attack and 50 damage! If you want to win, buy this miniature!!!!!!!!!!!!!!!
-
December 14, 2010
-- Captain Argyus
Senate Commando's are the best! I took out three fourth's of Dooku's hit points with one before I brought in Anakin to finish the job. They have 50 hit points, an 18 defense, a 9 attack, and best of all, 30 damage! Along with Double Attack, this is an awesome miniature!
Condition:
Complete Miniature Including Card
Fulfilled By:
TrollAndToad.Com