Radiant Light Dragon Mage Knight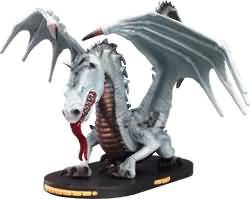 Condition:
Near Mint Large Miniature In Packaging
Fulfilled By:
TrollAndToad.Com
Barcode
807652004024
Isbn
1-931462-68-2
Description
Radiant Light Dragon Mage Knight

---

The Radiant Light Dragon is a fantastically detailed, colossal figure fit for display in any miniatures collection. It is the fourth in the widely acclaimed series of limited-edition dragons from WizKids.

The Radiant Light Dragon is for use in large Mage Knight armies, allowing allied figures to advance into battle using this Dragon's vast defensive values, and benefit from the healing celestial light that emanates from this Dragon's gaze. The Dragon will still pack a vicious punch with a strong ranged attack. The Radiant Light Dragon is allied with the Elemental League and has a variable starting point value, allowing players to deploy a young, adult, or ancient Radiant Light Dragon.

This is the last dragon WizKids is planning to release until the second half of 2002.

Contents

---

1 Painted Plastic Figure on a Four-Part Combat-Dial Base
Rules Specific to the Dragon
1 Point Value Sticker for the Bottom of Combat-Dial Base
Dimensions
10" H x 8.25" W x 3.75" D
Ship Weight
0.749 pounds
-
September 16, 2008
-- Anonymous
i don't have one yet but i think it looks awsome and my frinds say it kicks but
-
January 23, 2004
-- goblin21
this one is great it shoots 10 in. and has healing ability on both its sides . Flanked with some good archers w/arcing fire on both sides so they can be healed when needed this is a great combo
-
April 15, 2003
-- Jimmy the Dragon Ruler
I got it, you should to. The Radiant Light Dragon is great. Awesome range also can move and make ranged combat. It's AAAAAAAAAAAAAAAAAAAAAWESOME!!!!!!!!!!!!
-
December 26, 2002
-- mitch kibler
this dragon is a good dragon to base an army around i mean i have ann army of two dragons (the polar ice dragon&the radiant light dragon)tough and standered guys and when i usually play i almost always win. theres that factor and my friends(who will re main anonamous)suck at mage knight
-
February 28, 2002
-- nick gates
I made the best army based around this dragon!
-
September 25, 2002
-- Shadowspawn
Starting stats are: HEAD: Move 2, Attack 11, Defense 18 (Invulnerability), Damage 5 (Pierce), 10 range (1 target) SIDES: Move 6 (Flight), Attack 11 (Magic Healing), Defense 20 (Defend), Damage 4, 8 range (2 targets) BACK: Move 2, Attack 10, Defense 18, Damage 4, no ranged attackAncient costs 444 pts. Mature costs 312 pts. (2 clicks per dial) Young costs 201 pts. (4 clicks per dial)Odd that something this size has Magical Healing, but is welcome into any army.
-
December 15, 2001
-- Anonymous
This product is sweet! I only have this dragon once(so far),but its a good warrior for my army. I RECOMEND THIS ONE TO ALL MAGEKNIGHTPLAYERS OUT THERE!!!
Condition:
Near Mint Large Miniature In Packaging
Fulfilled By:
TrollAndToad.Com