Aniceto Tuvida Stinger #140 MechWarrior Falcon's Prey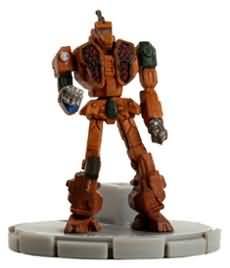 Condition:
Near Mint Plastic Miniature
Fulfilled By:
TrollAndToad.Com
Rarity
LE-4
Description
Name:Aniceto Tuvida Stinger 140
Faction:HL - (House Liao)
Point Value:116
Set:Falcon's Prey
Class:LE Mech
Dimensions
5" H x 3.25" W x 2" D
Ship Weight
0.055 pounds
-
November 01, 2008
-- wraith1701
While its small size and relatively light armament might seem like negative strikes, these qualities actually make this little Mech highly effective if used properly. Its Chilton 360 Jump Jets give the Stinger an agility sorely lacking in many larger Mechs, and its small target profile make it an ideal model for reconnaissance, scouting, and quick hit-and-run raids.While a stripped down version of the Mech may be used as a trainer, many variants include upgrades that would make this machine difficult to operate by any but the most seasoned Mechwarriors. Such upgrades include the MASC, or Myomer Accelerator Signal Circuitry system, which can allow a Stinger to reach speeds up to 151 km/h. Some variants, like the STG-6S, can jump up to 210 meters.In the right hands, this light Mech exemplifies the tactical advantage inherent in the focused, surgical strike.
Condition:
Near Mint Plastic Miniature
Fulfilled By:
TrollAndToad.Com