Duelmasters Base Set Booster Pack [10 Cards] DM-01 (Duelmasters)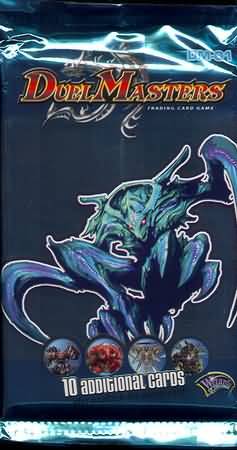 Condition:
Sealed Booster Pack
Fulfilled By:
TrollAndToad.Com
Description
Each booster pack contains 10 additional Duel Masters game cards plus a collectable puzzle card. Use the creatures and spells to boost the power of your Duel Masters decks and fill out your collection. Collect the puzzle cards and put them together to see a cool Duel Masters mini-poster image.

All of the core fun concepts are explored, but there is nothing too complicated. Each civilization has its own strengths and weaknesses which are easily identified in this starter level set. Do not confuse "base" for basic - this set has, pound for pound, the best removal spells in the game.

The Base Set uses the code "DM-01" and is the first set in the game.

((TROLL AND TOAD STAFF RECOMMENDATION))
When drafting Duel Masters include two packs of the base set, and two packs from any expansion. It feels as though some of the expansions are too focused to make a fun draft format. Adding the 120 card options from this set really brings this game to life!
Dimensions
0" H x 0" W x 0" D
Ship Weight
0.57 pounds
-
July 31, 2004
-- Jake Hamilton
The Base Set is the first pack of Duel Masters. And, in other TCG cases, the Base Set is the weakest. Well, I think not for Duel Masters! The Base Set is surprisingly powerful, and it contains heavy hitters like Light's Urth, Puryfying Elemental, or Fire's Bolshack Dragon. Or what about Darknes's Deathliger, Lion of Chaos. These cards are great. And, if you have a sea deck, then try to collect the infamous Aqua Sniper. (Super). So as you can see, this set is great. Who said save the best till last?!
Condition:
Sealed Booster Pack
Fulfilled By:
TrollAndToad.Com